CRPA News: Sneak Peak at the soon-to-be released CRPA Handbook / Nouvelles d'ACRP : Aperçu du manuel de l'ACRP à paraître sous peu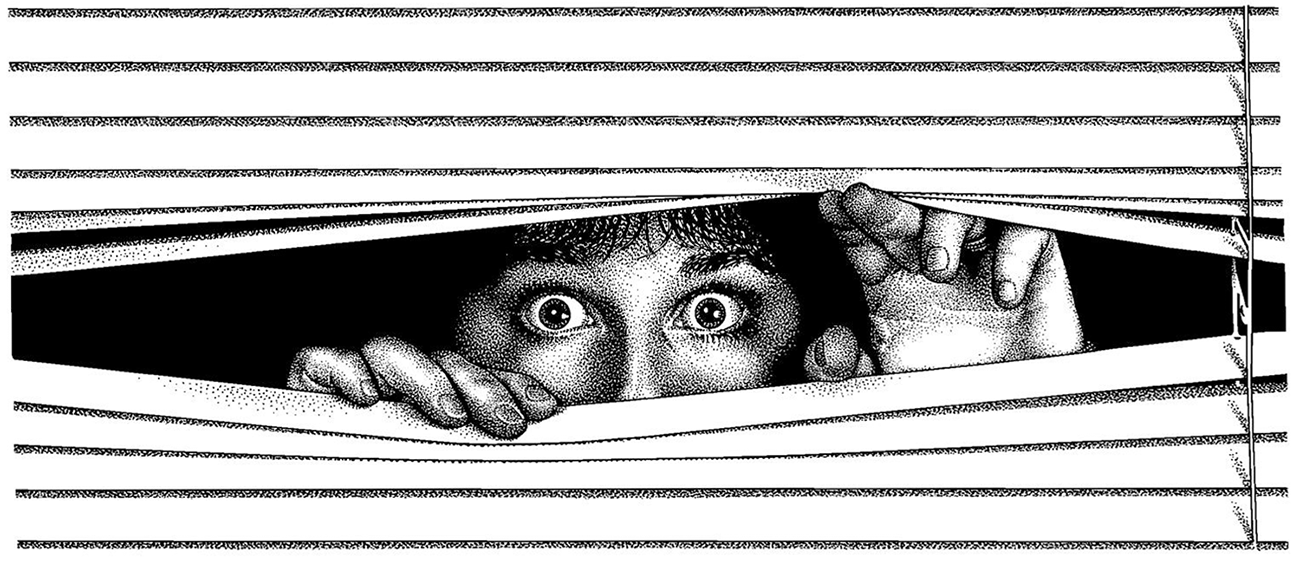 Purpose:
To provide an annual snapshot of membership information and distribution in various categories. To be published every 2 years
To allow the board to focus recruitment and retention efforts in specific areas where they may have more impact
Timeline:
The first copy of the annual membership report, based on data from 2016, should be published electronically in April 2018.
Data collection:
Data was collected from the membership information in CRPA's Wild Apricot database.
Highlights:
CRPA is gaining new members, but some are also lapsing.
Our membership is getting older (data not shown), and as those members begin to retire, our membership number may begin to drop. However, with the number of students increasing over the past three years, and the hope that those students will become full members, I think we are moving in the right direction.
Approximately 44% of CRPA's full members are from Ontario. The second highest membership numbers are from Saskatchewan, which is where 14% of our members are located.
The number of members in Western Canada has been increasing. Approximately 25% of our members are from British Columbia, Alberta, and Saskatchewan. Please stay tuned for our next edition to see if this trend continues.
Most of our full members are from the medical sector (18%) followed by government and regulatory (15%).
Our number of student members is increasing (from 15 in 2014, to 21 in 2015, and 24 in 2016).
Objectifs :
Fournir un aperçu annuel des caractéristiques des membres et de leur répartition par catégories. Publié tous les 2 ans
Permettre aux membres du Conseil de viser les efforts de recrutement et de rétention dans des domaines précis pour lesquels ils peuvent avoir plus de répercussions
Échéancier :
Selon les données de 2016, la première copie du rapport annuel des membres devrait être publiée par voie électronique en Avril 2018.
Collecte de données :
Les données ont été recueillies à partir des renseignements sur les membres inscrits dans la base de données Wild Apricot de l'ACRP.
Points saillants :
L'ACRP gagne de nouveaux membres tandis que d'autres quittent l'association.
Comme nos membres vieillissent (données non incluses), il se pourrait que leur nombre chute quand ils commenceront à prendre leur retraite. Cependant, avec le nombre croissant d'étudiants au cours des trois dernières années et l'espoir qu'ils deviennent des membres à part entière, je crois que nous sommes sur la bonne voie.
Environ 44 p. cent des membres à part entière de l'ACRP viennent de l'Ontario. Au deuxième rang viennent les membres de la Saskatchewan qui comptent pour 14 p. cent de nos membres.
Le nombre de membres provenant de l'Ouest du Canada a augmenté. Environ 25 p.  cent de nos membres viennent de la Colombie-Britannique, de l'Alberta et de la Saskatchewan. Nous vous invitons à surveiller notre prochain numéro pour voir si cette tendance se maintient.
La plupart de nos membres à part entière (18 p. cent) proviennent du secteur médical suivis par le secteur gouvernemental et réglementaire (15 p. cent).
Le nombre de nos membres étudiants a augmenté (passant de 15 en 2014, à 21 en 2015, puis à 24 en 2016).
Geographical distribution, 2016 / Distribution géographique, 2016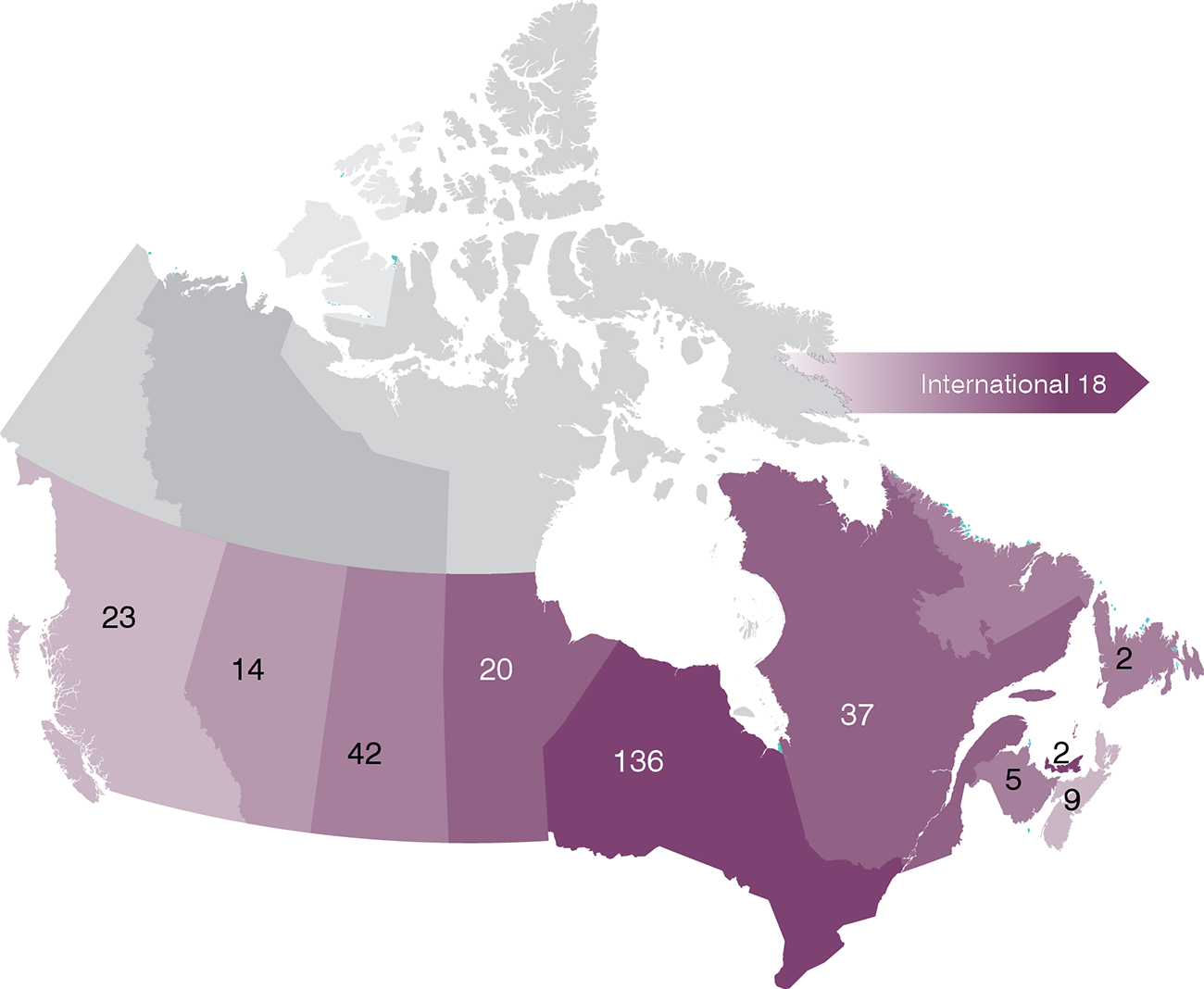 ---
Distribution by Membership Category, 2016 / Distribution par catégories de membres, 2016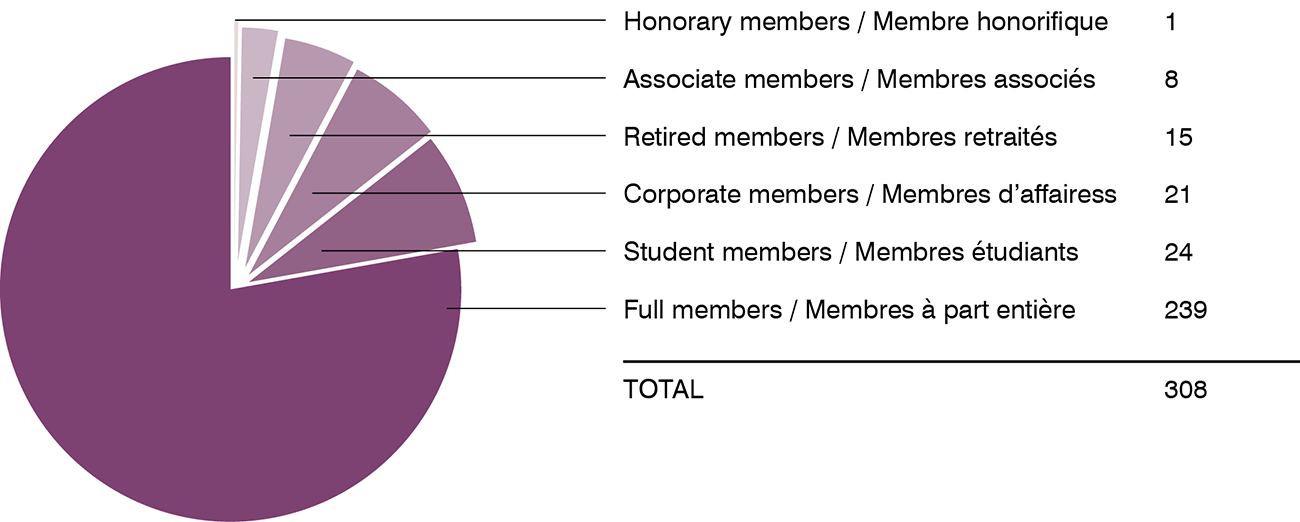 ---
Distribution by Area of Interest, 2016 / Distribution par champ d'intérêt, 2016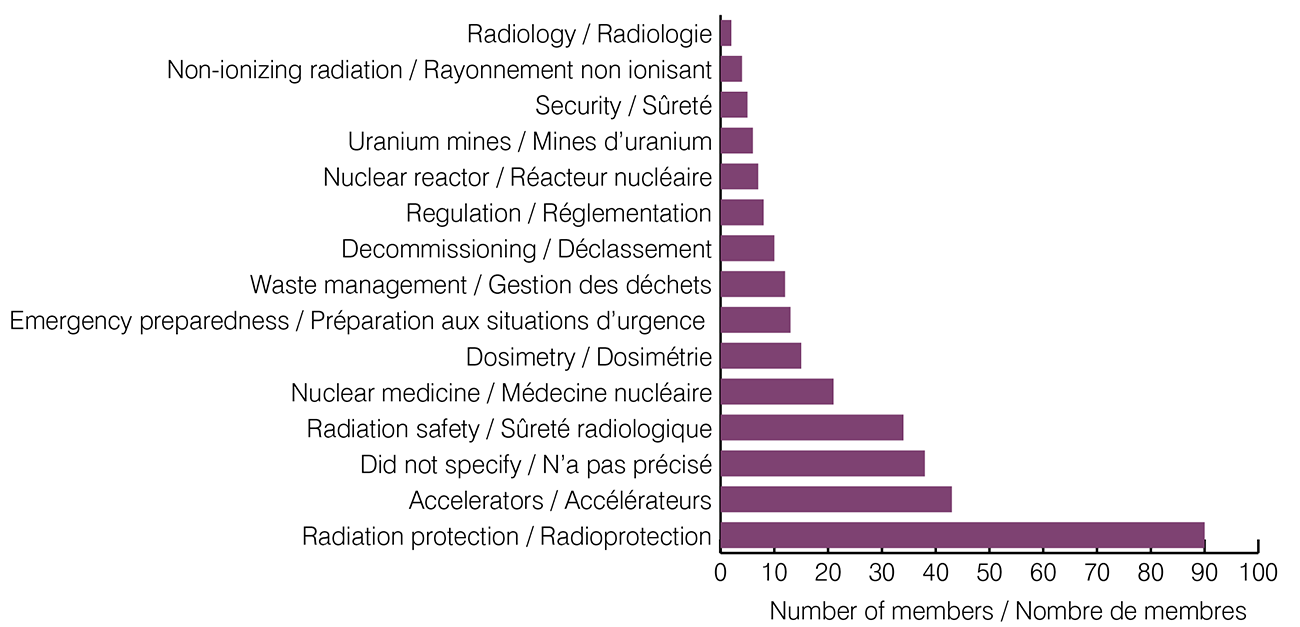 ---
Distribution by Employment, 2016 / Distribution par catégorie d'emploi, 2016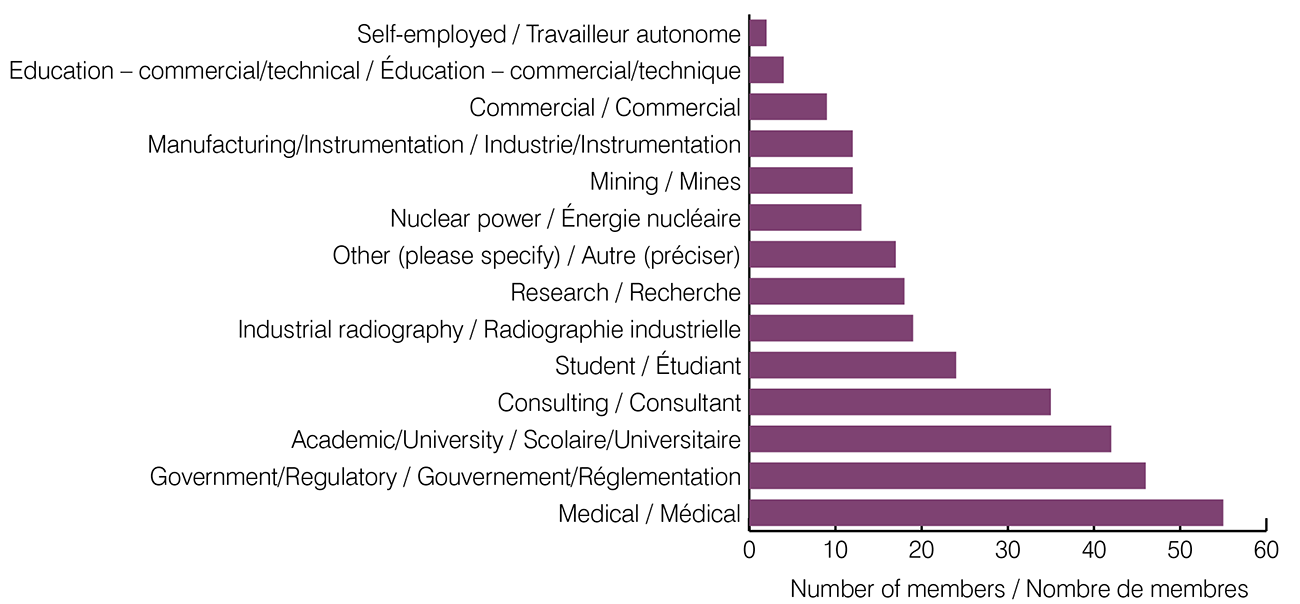 Ali Shoushtarian
Ali Shoushtarian is the registered radiation safety professional and a senior radiation safety specialist with the Ottawa Hospital. His portfolio includes clinical nuclear medicine and research laboratories.
En plus d'être le spécialiste de la radioprotection principal de l'Hôpital d'Ottawa, Ali Shoushtarian est aussi un professionnel de la radioprotection agréé. Parmi ses champs d'intérêt, on compte la médecine nucléaire en clinique ainsi que les laboratoires de recherche.