Member News: CRPA Members Win Award of Excellence / Nouvelles des membres : Des membres de l'ACRP remportent un prix d'excellence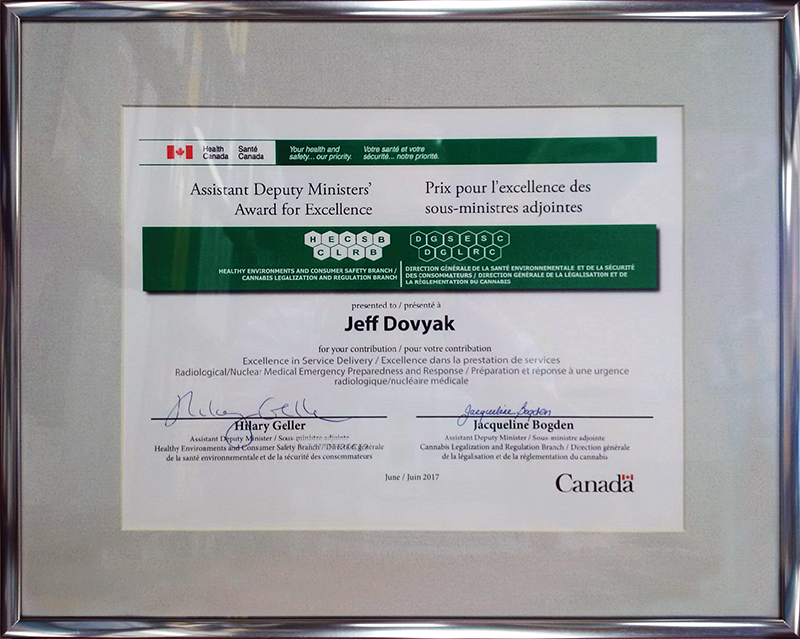 CRPA members Jeff Dovyak, lngvar Fife, and Roger Hugron, as members of the Radiological/Nuclear Medical Emergency Preparedness and Response Team, were among the recipients of a 2017 Assistant Deputy Ministers' (ADM) Awards for Excellence in Service Delivery.
The nominator, Dr. Dominique Nsengiyumva, acknowledged the team's partnership with many federal and provincial partners to devise a project that would provide training to as many medical professionals as possible in order to effectively and efficiently respond to a radiological/nuclear emergency in Canada. Since their eLearning module went live in October 2016 there has been a clear indication that this project was needed and will result in an enhanced national capacity to respond to a nuclear emergency.
The award was presented at a ceremony on June 2, 2017, at the Library and Archives Canada Auditorium.
"I am not often at a loss for words but this is one of those times," says Jeff Dovyak. "I enjoyed what we were working on and think that the eLearning module has a lot to offer, especially in our challenging economic times."
Les membres de l'ACRP Jeff Dovyak, lngvar Fife, et Roger Hugron, en tant que membres de l'équipe de préparation et d'intervention en cas d'urgences médicales radiologiques et nucléaires, comptent parmi les lauréats d'un Prix d'excellence en prestation de services du sous-ministre adjoint (SMA) 2017.
L'auteur de la mise en candidature, le Dr Dominique Nsengiyumva, a reconnu le partenariat de l'équipe avec plusieurs partenaires fédéraux et provinciaux pour élaborer un projet qui offrirait de la formation au plus grand nombre de professionnels de la santé possible pour répondre de manière efficace et efficiente à une urgence radiologique ou nucléaire au Canada. Depuis le lancement de leur module d'apprentissage en ligne en octobre 2016, il semble clair que ce projet était nécessaire et permettra de renforcer la capacité nationale de répondre à une urgence nucléaire.
Le prix a été présenté lors d'une cérémonie le 2 juin 2017 à l'auditorium de Bibliothèque et Archives Canada.
« Les mots me manquent rarement, mais c'est le cas maintenant, » dit Jeff Dovyak. « J'ai pris plaisir à travailler sur ce projet et je crois que le module d'apprentissage en ligne a beaucoup à offrir, particulièrement dans cette période économique difficile. »