2019 Annual Federal Provincial Territorial Radiation Protection Committee Meeting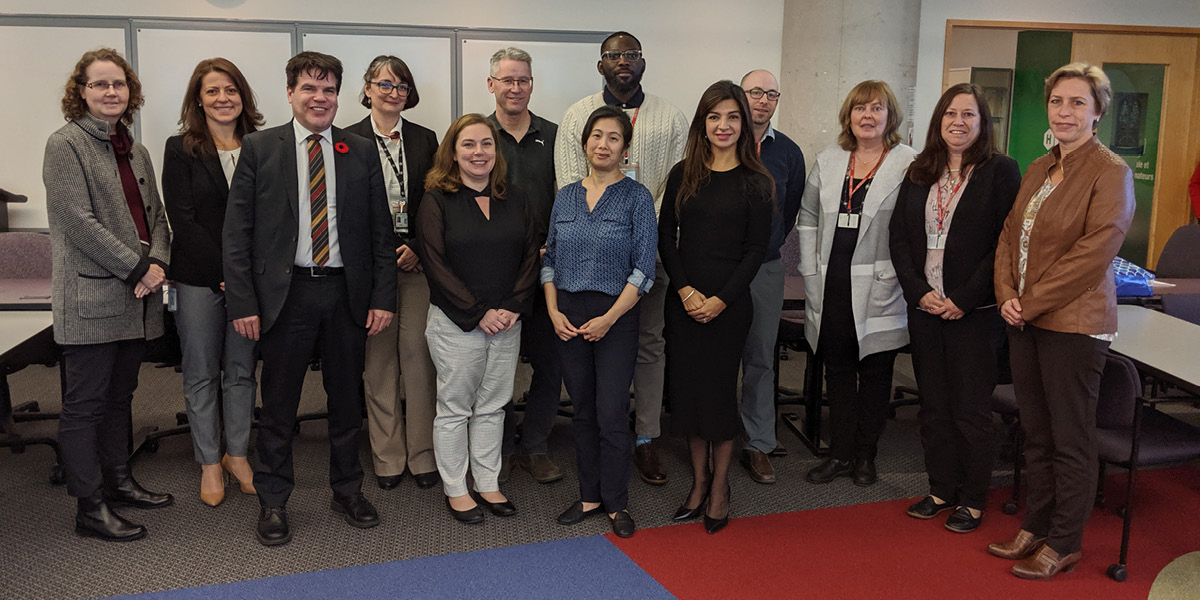 From left to right: Colleen Rodgerson (NS),  Narine Martel (Health Canada), Ir. Martin Benôit Gagnon (QC), Samantha Klein (CNSC), Suzanne Thornham (ON-Labour), Robert Rees (YT), Karen O'Young (ON-Health), Azeez Omotayo (MB), Rakhi Radia (National Defence),  Brent Preston (SK), Caroline Purvis (CNSC), Nancy Hounsell (NL), Janice Whalen (PE)
Not in picture: Madelaine Fedorowich (ON-Labour), Leo Tse (ON-Health), Gary Hughes (AB), Mark Rice (AB), Michelle Cottreau (PE), Robert (Bob) Reid (Employment and Social Development Canada)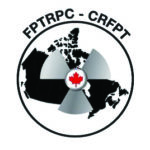 The responsibility to keep Canadians safe from unnecessary radiation exposure is shared between the federal and provincial/territorial governments. The Federal Provincial Territorial Radiation Protection Committee (FPTRPC) was created in 1993, with a mandate to advance the development and harmonization of practices and standards for radiation protection within federal, provincial, and territorial jurisdictions. Committee membership includes the following:
Health Canada's Environmental and Radiation Health Sciences Directorate
Canadian Nuclear Safety Commission's (CNSC's) Directorate of Environmental and Radiation Protection and Assessment
Department of National Defence
At least one member from each province and territory
An observer from Employment and Social Development Canada's (ESDC's) Labour Program
The committee meets every year to allow radiation protection regulatory officials from across Canada to share information, discuss challenges, and recommend courses of action. The latest meetings took place October 29 to November 1, 2019.
The following executive officers chaired various meeting sessions:
Narine Martel, federal co-chair (Health Canada)
Caroline Purvis, federal co-chair (CNSC)
Colleen Rodgerson, provincial/territorial co-chair (Nova Scotia Department of Labour and Advanced Education)
Tim Singer, director general of Health Canada's Environmental and Radiation Health Sciences Directorate, and Michael Rinker, director general of CNSC's Directorate of Environmental and Radiation Protection and Assessment, presented a broad overview of their respective organizations' recent achievements, activities, programming, and priorities moving forward.
In addition to these updates, Innovation, Science and Economic Development Canada (ISED) presented on the fifth generation (5G) of cellular communication technology and its deployment. Greguy Saint-Pierre and Josette Gallant of ISED's Spectrum and Telecommunications Sector discussed their organization's Spectrum Outlook (spectrum release plan) to meet spectrum demand and support next-generation services, ISED's radio-frequency exposure compliance plan and activities, and efforts to contribute to and align with international standards.
Typically, FPTRPC executive officers suggest a theme or various areas of interest to facilitate membership discussion at annual meetings. Of special interest this year were the following:
Regulatory coverage of whole-body X-ray security scanners and analytical X-ray devices/handheld XRF analyzers
Surveillance of workplace injuries from radiation devices
Veterinary use of advanced digital imaging equipment (magnetic resonance imaging [MRI] and computed tomography [CT])
Dental use of rectangular collimators
Cone beam computed tomography (CBCT)
Members provided an overview of their regulations in these areas and discussed their respective approaches. This information helps members better understand regional differences and allows for sharing of best practices for tackling issues faced nationwide.
Health Canada and CNSC both provided presentations on their respective programming areas, research results, and international initiatives:
Modernization of the Radiation Emitting Devices Act
Update from the 66th United Nations Scientific Committee on the Effects of Atomic Radiation (UNSCEAR) session
Risk assessment for radon exposure in various indoor environments
Update on the National Radon Proficiency Program
Reducing the lung cancer burden attributed to radon
Update on International Atomic Energy Agency's (IAEA's) Emergency Preparedness Review (EPREV)
Revisions to Guidelines for Making Changes to Dose-Related Information
Update on revisions to Safety Code 30, Radiation Protection in Dentistry
Update on radiofrequency electromagnetic fields (RF-EMF)
Canadian Guidelines for the Management of Naturally Occurring Radioactive Materials (NORM)
Global radiation surveillance and incident monitoring
Nuclear Energy Agency (NEA) Expert Group on the Dose Limit for the Lens of the Eye
Survey of handheld laser device injuries
The annual meeting is also an opportunity for members to hear from guest presenters on topics of interest. Miroslav Pinak, head of IAEA's Radiation Safety and Monitoring Section, gave a presentation on basic safety standards. This was followed by a learning session on evaluating X-ray facility installation plans and radiation detection equipment for evaluating shielding provided by Curtis Caldwell, Radiation Safety Institute of Canada.
The meeting concluded with the annual business meeting, where members heard reports from the various working groups. Of note, the committee's three-year business plan is due for renewal in 2020, and an updated version is in development. A new provincial/territorial vice-co-chair, Brent Preston, from the Saskatchewan Ministry of Labour Relations and Workplace Safety, was acclaimed. There was also discussion about possible position statements to reflect the committee's collective opinion, as well as ways to increase the committee's profile.
In summary, the 2019 FPTRPC meeting provided an excellent forum for regulatory counterparts to learn from each other, share information, and engage in discussion. FPTRPC looks forward to continued collaboration.
For more information about FPTRPC and its work, visit:
https://www.canada.ca/content/canadasite/en/health-canada/services/environmental-workplace-health/radiation/federal-provincial-territorial-radiation-protection-committee.html