2020 Annual Federal Provincial Territorial Radiation Protection Committee Meeting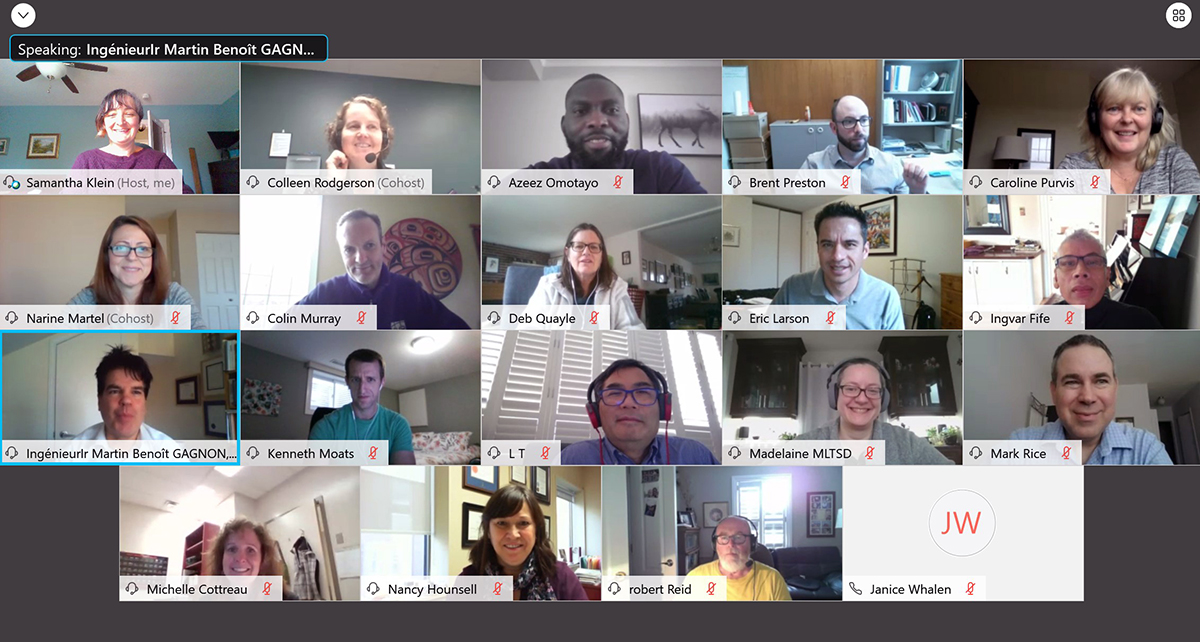 From left to right: Samantha Klein (CNSC), Colleen Rodgerson (NS), Azeez Omotayo (MB), Brent Preston (SK), Caroline Purvis (CNSC), Narine Martel (HC), Colin Murray (BC), Debora Quayle (HC), Eric Larson (HC), Ingvar Fife (MB), Martin Benôit Gagnon (QC), Kenneth Moats (HC), Leo Tse (ON-Health), Madelaine Fedorowich (ON-Labour), Mark Rice (AB), Michelle Cottreau (PE), Nancy Hounsell (NL), Robert (Bob) Reid (ESDC), Janice Whalen (PE). Not in picture: Robert Rees (YK).
The responsibility to keep Canadians safe from unnecessary radiation exposure is shared between the federal and provincial/territorial governments. The Federal Provincial Territorial Radiation Protection Committee (FPTRPC) was created in 1993, with a mandate to advance the development and harmonization of practices and standards for radiation protection within federal, provincial, and territorial jurisdictions. The committee includes representatives from the following:
Health Canada (HC) Environmental and Radiation Health Sciences Directorate
Canadian Nuclear Safety Commission (CNSC) Directorate of Environmental and Radiation Protection and Assessment
Department of National Defence
Provinces and territories (at least one member from each)
Employment and Social Development Canada (ESDC) Labour Program (as an observer)
The committee meets every year to allow radiation protection regulatory officials from across Canada to share information, discuss challenges, and recommend courses of action. The latest meetings took place October 19 to 22, 2020.
The following executive officers chaired various meeting sessions:
Caroline Purvis, federal co-chair (CNSC)
Narine Martel, federal co-chair (HC)
Colleen Rodgerson, provincial/territorial co-chair (Nova Scotia Department of Labour and Advanced Education)
The COVID-19 pandemic required the shift to a virtual meeting format, as it did for most organizations. Although members missed the opportunity to catch up during coffee breaks, the engagement was just as high as for in-person meetings.
To make more time for provincial and territorial discussions, CNSC and HC provided newsletter-style updates to the group instead of presentations.
Typically, FPTRPC executive officers suggest a theme or various areas of interest to facilitate discussion at annual meetings. Of special interest this year were the following:
Federal jurisdiction oversight
Awareness and use of health and safety information on radiation-emitting devices provided by HC
Hand-held security X-ray devices
Wind turbine noise as it relates to health
Members provided an overview of their regulations in these areas and discussed their respective approaches. This information helps members better understand regional differences and allows for sharing of best practices regarding issues faced nationwide.
Additional talks of interest included the following:
International Commission on Radiological Protection (ICRP) updates from Chris Clement (ICRP's scientific secretariat)
Whole-body X-ray and transmission security scanners
Radiation protection laws, regulations, and standards: organization, understanding, communication, and application in Quebec
Update on HC's National Dose Registry activities and initiatives
Canadian Guidelines for the Management of Naturally Occurring Radioactive Materials (NORM)
The meeting concluded with the annual business meeting, where members heard reports from the various working groups. There was discussion around regulation updates in several jurisdictions and how best to share information and experiences around the process.
In summary, the 2020 FPTRPC meeting provided an excellent forum for regulatory counterparts to learn from each other, share information, and engage in discussion. FPTRPC looks forward to continued collaboration.
For more information about FPTRPC and its work, visit:
https://www.canada.ca/content/canadasite/en/health-canada/services/environmental-workplace-health/radiation/federal-provincial-territorial-radiation-protection-committee.html
Do you want to read more articles like this?
The Bulletin is published by the Canadian Radiation Protection Association (CRPA). It's a must-read publication for radiation protection professionals in Canada. The editorial content delivers the insights, information, advice, and valuable solutions that radiation protection professionals need to stay at the forefront of their profession.
Sign up today and we'll send you an email each time a new edition goes live. In between issues, check back often for updates and new articles.
Don't miss an issue. Subscribe now!
Subscribe