Editor's Note / Message du rédacteur en chef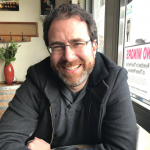 Let me be the first to welcome you to the inaugural edition of the online CRPA Bulletin! I'm very excited to take on the role of chief editor and to be a part of the transition to this online format. Grant Cubbon is also joining the team as our new deputy editor, and we are really looking forward to pushing out lots of great content to all of you. These would be big roles to fill at the baseline, but even more so after the fantastic job Stéphane Jean-François and Leona Page have done as chief and deputy editors. They've set the bar very high and I hope we can keep it there. They deserve a huge amount of thanks for all of their hard work over the last decade.
The change to an online format is not insignificant. It's been talked about off and on for many years. With the current change in the media landscape and the new editorial team coming on board, the time was right to make the switch for 2018. We had many goals in moving to this new format, these being the main ones:
Publishing information in a more timely fashion to ensure our content is current
Making it easier to access the Bulletin wherever you are—at home, at work or maybe even on vacation (We know there's at least one of you out there on vacation!)
Making it easier to access archived articles and making the magazines more searchable
The other big change we've made is that the Bulletin is now available to everyone, not just CRPA members. We expect this to greatly increase our public profile and, as our readership grows, create more advertising opportunities for our corporate members.
So how will the online Bulletin work? Well, to start, we'll be publishing monthly issues, which is much more frequent than the former three issues per year. This will mean that each issue will have less content but, as mentioned, that content will be more current. Every month you'll receive a short email when the new issue is live—just follow the link and start reading! In addition to the online content, a special conference edition will still be printed and included in the conference bags. Otherwise, you'll find everything online, including the conference edition!
We'd love to hear your thoughts on the new format. If you have any comments, or suggestions for content, or would like to get involved in any way, email us at [email protected].
Happy browsing!
Dave Niven
Permettez-moi d'être le premier à vous souhaiter la bienvenue à cette première édition du Bulletin en ligne de l'ACRP! Je suis très heureux d'assumer le rôle de rédacteur en chef et de faire partie de la transition vers ce format électronique. Grant Cubbon se joint également à l'équipe en tant que rédacteur adjoint, et nous sommes impatients de diffuser beaucoup de contenu intéressant pour vous tous. Ces deux rôles constituent déjà de grands rôles, mais ils le sont encore plus quand on succède à Stéphane Jean-François et à Leona Page comme rédacteur en chef et rédacteur adjoint. En effet, grâce à leur travail fantastique, ils ont placé la barre très haute et j'espère que nous saurons la maintenir à un niveau aussi élevé. Stéphane et Leona méritent tous nos remerciements pour leur travail acharné au cours de la dernière décennie.
Le passage à un format en ligne est non négligeable et il en est question depuis plusieurs années. Avec les changements apportés au paysage médiatique et avec l'arrivée d'une nouvelle équipe de rédaction, le moment était bien choisi pour procéder à la nouvelle mouture en 2018. Nous avions de nombreux objectifs en allant vers ce nouveau format, les principaux étant :
de publier l'information plus rapidement afin de présenter un contenu actuel;
De rendre le Bulletin plus facilement accessible, peu importe où vous vous trouvez, que ce soit à la maison, au travail et même en vacances (il y a toujours des gens en vacances!); et
de faciliter l'accès aux articles archivés pour qu'il soit possible de faire des recherches de contenu
L'autre grand changement que nous avons apporté est de rendre le Bulletin accessible à tous et non plus seulement aux membres de l'ACRP. Nous nous attendons à ce que cela augmente notre visibilité auprès du public, et en augmentant notre nombre de lecteurs, de créer plus d'opportunités publicitaires pour nos membres corporatifs.
Comment fonctionnera le Bulletin en ligne? D'abord, nous publierons des numéros mensuels, ce qui est beaucoup plus fréquent que les trois numéros par année habituels. Chaque numéro aura donc moins de contenu mais, comme mentionné plus haut, ce contenu sera plus actuel. Un courriel vous sera acheminé tous les mois vous indiquant que le nouveau numéro est en ligne : il vous suffira de cliquer sur un lien pour lire le dernier numéro! En plus du contenu en ligne, une édition spéciale pour le congrès sera imprimée et incluse dans les sacs du congrès. Autrement, vous trouverez tout en ligne, incluant l'édition du congrès!
Nous aimerions connaître votre opinion sur le nouveau format. Si vous avez des commentaires ou des suggestions de contenu, ou si vous désirez vous impliquer d'une façon ou d'une autre, écrivez-nous à [email protected].
Bonne navigation!
Dave Niven