From the Archives / Souvenir d'archives
January 2018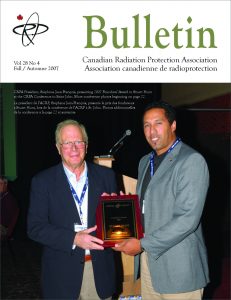 Welcome to the first instalment of our From the Archives section! This will be a regular feature in the new online Bulletin where we will be showcasing highlights from CRPA's past.
For our inaugural instalment in this new online format of the Bulletin, it seemed fitting to cast back to the last time this publication went through a major format change. In the fall of 2007 the CRPA Bulletin moved from a single editor to an editorial team, the Bulletin Editorial Board (BEB). The first issue published under the direction of the new team (Vol 28, No 4) was also the first Bulletin produced by Michelle Boulton at 3C Publications (formerly Michelle Communications). Leona Page had already accepted the role of deputy editor, but the chief editor spot remained vacant. Not long afterward, Stéphane Jean-François, still president of CRPA at the time, would become our chief editor.
That issue of the Bulletin (Vol 28, No 4) is linked here. We hope you'll enjoy revisiting this look back at CRPA just over a decade ago!
Janvier 2018
Bienvenue à ce premier volet intitulé « Souvenir d'archives »! Il s'agit d'une nouvelle rubrique régulière du Bulletin en ligne dans laquelle nous présenterons des faits qui ont marqué le passé de l'ACRP.
À l'occasion de cette première édition du nouveau format électronique du Bulletin, il nous semblait approprié de nous rappeler le dernier changement de format majeur de la publication. En effet, à l'automne 2007, le Bulletin de l'ACRP passait d'un rédacteur en chef unique à toute une équipe de rédaction : le Comité de rédaction du Bulletin (CRB). En outre, le premier numéro publié par cette nouvelle équipe (vol. 28, no 4) constituait également le premier Bulletin produit par Michelle Boulton de Michelle Communications (aujourd'hui 3C Publications). À l'époque, Leona Page avait déjà accepté le rôle de rédactrice adjointe, mais le poste de rédacteur en chef demeurait vacant. Peu de temps après, Stéphane Jean-François, alors président de l'ACRP, devenait aussi le rédacteur en chef de la publication.
Ce numéro du Bulletin est accessible ici. Nous espérons que vous apprécierez ce souvenir de l'ACRP, qui remonte à un peu plus de dix ans !