Join us in Quebec City for the 2018 conference: Human Factor and Safety Culture, Monday, April 30, 2018 / Joignez-vous à nous à Québec pour le congrès de 2018 : Le facteur humain et la culture de la sûreté Le lundi 30 avril 2018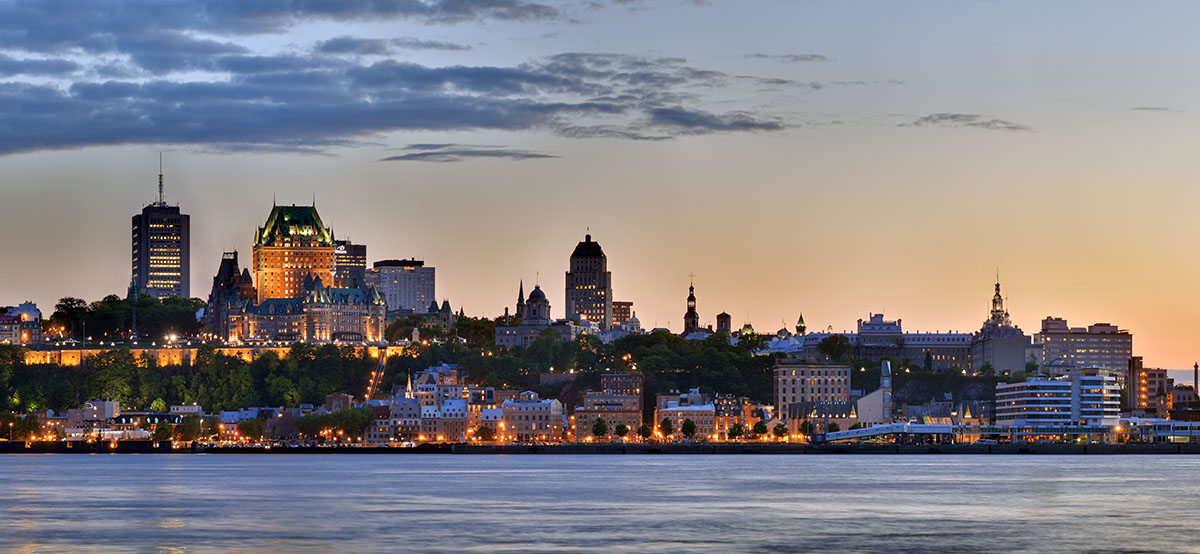 Radiation safety professionals and CRPA colleagues, in less than four months, and not even a year after the 2017 conference closed in Saskatoon, we will open the 2018 conference in Quebec City. Your organizing committee will be ready to welcome you at the Hilton Québec with remarkable social and scientific programs.
The CRPA conference in Quebec City will be a unique opportunity to meet and interact with Canadian and international radiation safety professionals, while enjoying Quebec's hospitality and the legendary friendship of CRPA members.
Scientific program
The scientific program will tantalize you on the first day with international flavours, bringing together the International Commission on Radiological Protection (ICPR) and its various working groups with the Société Française de Radioprotection.
On the other days, we will showcase response and analysis capabilities during environmental emergencies, and you will be able to visit the mobile units of both Quebec's  Ministry of Sustainable Development, Environment, and Action against Climate Change and the federal Environment and Climate Change Canada.
Workshops
In keeping with this year's theme, a highly praised workshop will be offered by the Canadian Nuclear Safety Commission (CNSC) Evaluation Group that will provide an update on the success factors for the Radiation Safety Officer (RSO) and will appeal to the radiation protection professionals attending. Of course, the always-popular regulatory update workshop and its traditional question period will also be presented.
Non-ionizing radiation
The non-ionizing radiation component is already taking shape and we are not ruling out the possibility that representatives from the International Commission on Non-Ionizing Radiation Protection (ICNIRP) will be in attendance. We will have a strong non-ionizing radiation program in laser, nuclear magnetic resonance (NMR), and radiofrequency.
Professional development
The professional development component of the conference will include:
at least one Transportation of Dangerous Goods (TDG), Class 7, ground and air training course
a laser safety refresher training course
other training to be confirmed in the coming weeks
Educational tours
Educational tours are being planned at a radiopharmacy and the Center for Optics, Photonics, and Lasers (COPL).
Companion program
As always, the social and cultural aspect will not be neglected. After all, you will be in a city that was founded more than 400 years ago! The Companion program promises tasty local gastronomy; exciting visits to the historical Old Quebec City, Ile d'Orléans, and the Montmorency Falls; and many shopping opportunities in Old Quebec.
Sponsors
The support of corporate members and other sponsors from the radiation safety industry plays a determining role in the success of this conference. We will open the exhibitors area to the public for at least one afternoon and we will provide our exhibitors with high-quality spaces where they can engage with delegates.
Call for papers
We are soliciting papers related to the conference theme or based on your research and activities involving ionizing and non-ionizing radiation safety. Send us your abstract as soon as possible to help us prepare the final schedule. The first deadline is February 28, 2018.
Accommodations
Register early and book your hotel, which is a three-minute walk from Old Quebec City.
More information
We will be posting updates regularly, so please visit the CRPA Conference website frequently!
Professionnels de la radioprotection et collègues de l'ACRP, prenez note que le congrès annuel de l'ACRP à Québec débutera le lundi 30 avril 2018, au Hilton Québec, soit moins d'un an après la fin du congrès de Saskatoon! Votre comité organisateur sera fin prêt à vous accueillir avec des programmes social et scientifique relevés.
Le congrès de l'ACRP à Québec est une occasion unique de rencontrer et d'échanger avec les professionnels de la radioprotection du Canada et de quelques autres pays et d'échanger avec eux tout en profitant de l'hospitalité toute québécoise et de la légendaire camaraderie des membres de l'ACRP.
Le programme scientifique
Le programme scientifique vous intriguera dès la première journée du congrès aux saveurs internationales réunissant la Commission internationale de protection radiologique (CIPR), ses différents groupes de travail et la Société française de radioprotection.
Les autres journées, le programme présentera les capacités d'intervention et d'analyse lors d'urgences environnementales, et vous pourrez visiter les unités mobiles du ministère provincial du Développement durable, de l'Environnement et de la Lutte contre les changements climatiques, de même que celles du ministère fédéral de l'Environnement et des Changements climatiques.
Les ateliers
Un atelier très prisé et portant sur la thématique du congrès sera offert par le groupe d'évaluation de la CCSN, qui présentera une mise à jour du projet sur les facteurs de réussite d'un responsable de la radioprotection (RRP) et qui interpellera les professionnels de la radioprotection présents. Bien sûr, l'incontournable atelier de mise à jour réglementaire et sa traditionnelle période de questions seront également présentés.
Le rayonnement non ionisant
Le volet « Rayonnement non ionisant » prend également forme et nous n'abandonnons pas l'idée de recevoir des représentants de l'International Commission on Non-Ionizing Radiation Protection (ICNIRP). Le programme est prometteur avec des présentations abordant le laser, la résonance magnétique nucléaire et la radiofréquence.
Le perfectionnement professionnel
Le volet perfectionnement professionnel du congrès inclut :
au moins une formation en transport terrestre et aérien des marchandises dangereuses (TMD), classe 7
une formation de mise à niveau en sécurité laser ; et
d'autres formations à confirmer au cours des prochaines semaines.
Des visites éducatives
Nous planifions également quelques visites éducatives, dont la visite d'une radiopharmacie et celle d'un centre de recherche en optique.
Le programme pour accompagnateurs
Le volet social et culturel ne sera pas négligé. Après tout, vous serez dans une ville fondée il y a plus de 400 ans! Le programme pour les accompagnateurs promet de faire goûter à la fine gastronomie du terroir ; de parcourir les lieux historiques et captivants du Vieux-Québec, de l'île d'Orléans et des chutes Montmorency ; et de magasiner à satiété dans les magasins de la Vieille Capitale.
Les commanditaires
Le soutien des membres d'affaires et autres commanditaires de l'industrie de la radioprotection est la base du succès de ce congrès. Nous ouvrirons l'espace des exposants au public pendant au moins un après-midi et nous mettrons à la disposition de nos exposants des espaces de première qualité pour intéresser les congressistes.
Un appel aux contributions
Nous sollicitons vos communications sur le thème du congrès ou sur le fruit de vos recherches et activités en radioprotection, tant en matière de rayonnement ionisant que non ionisant. Envoyez-nous votre projet de communications le plus rapidement possible, pour nous permettre de mieux définir l'horaire final. Une première date butoir est le 28 février 2018.
L'hébergement
Inscrivez-vous sans tarder et réservez votre hôtel situé à 3 minutes de marche du Vieux-Québec.
Renseignements supplémentaires
Nous vous enjoignons à visiter régulièrement la page du congrès de l'ACRP, que nous mettrons à jour !