Editor's Message, May 2022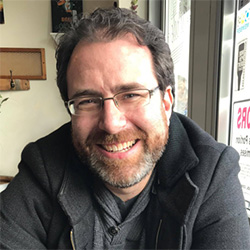 I would never have guessed how much was going to happen between my last editorial in the fall and this one. It's only been a few months, but a whole new wave of the pandemic has come and gone.
I had been anticipating that CNSC inspectors would soon be returning to in-person inspections, which was obviously not in the cards as Omicron spread. But timing is everything, and now there are plans for an on-site inspection at the University Health Network in Toronto, where I work, at the end of April—barring any other developments, of course.
The format for the inspection will be hybrid, meaning the inspection team will be reviewing documents before they arrive on site. This makes sense to me; why spend an extra day on the road just to read documents that you could look at in the comfort of your own home?
Of course, the "comfort of your own home" may not be as applicable in the days to come either. Many employers are implementing their return-to-work plans after the pause caused by Omicron. Much of that return to work will also be hybrid, with a mix of in-office and remote workdays. "Hybrid" might be in the running for the 2022 word of the year. As long as nothing happens to create some sort of super racoon-squirrel hybrid in downtown Toronto, I'm fine with that.
As I write this—the Russian invasion of Ukraine is in its second week. My heart breaks for all those who've been forced to flee their homes or who've lost their lives protecting them. I'm a big fan of board games, and I've often played games such as Axis and Allies, which are set mostly during the world wars. It was all very abstract and removed from reality—roll the dice, move pieces on the board, and gain control of cities or countries. The current events, however, are about as far from abstract as one can get. Perhaps one day there'll be another edition in the Axis and Allies series that includes this conflict, but I can't imagine I'll be interested in playing that one, or really any other war game at this point.
I also never expected to hear so much about Chernobyl, at least not since the HBO series. But with the Russian army taking control of Chernobyl and fires breaking out at other nuclear facilities, the risks posed by nuclear plants are again in the eye of the public. Much like my partner, an epidemiologist, has been asked a multitude of Covid-related questions by friends and family members during the pandemic, I've been asked in recent days about the risks from the nuclear facilities caught in the conflict.
"Will the plant explode if there's a fire?"
"What does 'elevated levels of radiation' mean?"
I try my best to recall the theory I learned many years ago, but as someone who's only set foot in a nuclear power plant twice, I'm certainly not the most qualified person to answer those questions. As much as it pains me to admit when I don't know an answer, it's important to acknowledge that I don't know or, at the very least, make time to do some research. There's enough misinformation out there in general these days, and I'd hate to accidentally add to it, even if it's just in conversation during a simple lunch with family or friends.
While not all radiation protection professionals have expert knowledge about nuclear power, one of CRPA's corporate members, the Radiation Safety Institute of Canada, provides some expert advice in a blog post called, "Ukrainian Nuclear Power Plants in the War Zone: Should Canadians be Concerned?"
Before I sign off, I'd be remiss not to congratulate Liz Krivonosov on her retirement!
Liz was the CRPA Secretariat when I first joined CRPA in 2009, and she has been a pillar of the association. In fact, it was a comment from her that made me seriously consider running for CPRA president when I did.
With decades of experience in radiation safety and other fields, including founding and running her own company, Krivonosov Risk Management Consultants (through which she also supported CRPA), she's certainly earned her retirement. Hopefully no one lets her off the Conference Committee for a while so we can make sure she'll have to come and socialize with us at least once a year for the foreseeable future.
Do you want to read more articles like this?
The Bulletin is published by the Canadian Radiation Protection Association (CRPA). It's a must-read publication for radiation protection professionals in Canada. The editorial content delivers the insights, information, advice, and valuable solutions that radiation protection professionals need to stay at the forefront of their profession.
Sign up today and we'll send you an email each time a new edition goes live. In between issues, check back often for updates and new articles.
Don't miss an issue. Subscribe now!
Subscribe