Interview with Leah Shuparski-Miller, CRPA's President-Elect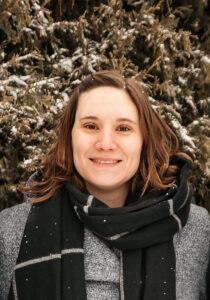 If you're a regular reader of the CRPA Bulletin, you know Chief Editor Dave Niven makes a habit of interviewing interesting people involved in radiation protection. In this issue, Dave continues his interview series by talking with Leah Shuparski-Miller, CRPA's president-elect.
Before we begin, a note from Leah: because she works at the Canadian Nuclear Safety Commission (CNSC), it's important for her to be clear about the capacity in which she is responding. All of the following answers are in her capacity as CRPA's president-elect.
​​ Dave: Tell us a little bit about yourself—work life, family life.
Leah: I work at CNSC. My job involves licensing and compliance activities for various Class 2 and Class IB licences in the Accelerators and Class II Facilities division. I love seeing how different licensees are implementing radiation protection programs at their facilities.
Before joining CNSC, I worked as a medical health physicist at the Ottawa Hospital. I live in Ottawa with my husband and two kids.
Dave: When did you first join CRPA?
Leah: I joined CRPA in 2007. I was a student intern at the Ottawa Hospital at the time, and my (then) supervisor encouraged me to enter the Student Paper Contest. I presented my paper at the conference in Saint John, NB, and really enjoyed meeting CRPA members and the overall conference experience. From then on, I was hooked!
Dave: Why did you decide to run for CRPA president?
Leah: I had been a member of the CRPA board in the past, as director of Professional Development and then secretary, and really enjoyed the work. When my twins were imminent, I decided to resign from my board position, but when things settled (a little!), the time felt right to run.
Dave: What do you plan to focus on during your presidency?
Leah: I have a few ideas about what I'd like to do this year.
One area of focus will be trying to bring some of the hard-won pandemic lessons with us into the future. What has become clear to me over the course of the last two years is that, although we are all pretty tired of entirely virtual events, hosting a combination of virtual and in-person events can allow more people to participate. We hear from many members that meeting colleagues, peers and regulators at the conference is a highlight, and one of the main reasons they are members. We need to work hard to bring that feeling to all our members, even if they're unable to travel.
I've also been thinking a lot about how to lower the barriers to entry for our members in terms of ongoing professional development. The reality of extra credentials, like the CRPA(R) or the Certified Health Physicist (CHP) designations, is that working toward earning them takes a lot of time and energy spent during evenings and weekends, when you probably have other responsibilities to fulfill. That makes them well-earned, but it also means opportunities to work toward these certifications are not always available. Employer support and home life situations have to align for preparation to be possible.
I think there are things we can do as an association to make it as easy as possible for members to pursue credentials, if that is what they want:
Continue to offer the CRPA(R) exam in more than one location when possible
Allow CRPA(R)s to earn continuing education credits if they successfully write the CHP exams (Part 1 or Part 2).
Ensure some CRPA(R) activities can be used for CHP credits and vice versa
Continue to offer a suite of online live and on-demand professional development courses at a very reasonable rates to our members
Dave: Were you able to start on any of your goals as president-elect over the past year?
Leah: Yes! A memorandum of understanding (MOU) with the American Academy of Health Physics, where each association states which activities can be used to earn credit for the other organization's continuing education credentials, has been agreed to. Stay tuned for the officially approved MOU.
Dave: Among all of your goals, if you could pick only one to accomplish by the end of your term as president, what would it be?
Leah: This might be a bit of a cop-out, but for me it's more about making sure our key committees that do a lot of the heavy lifting on projects, like offering CRPA(R) exams, developing PD courses, etc., have what they need and can continue their good work.
Dave: Where would you like to see the association five years from now?
Leah: The pandemic has shown us that our model of relying on our annual in-person conference for the majority of our revenue has flaws, and we need some mitigation strategies in case we can't run an event for one reason or another. I'd like to see us organizing a conference every year, as well as offering some online professional development and association events, to help members stay connected.
Dave: Is there anything else you'd like to say to our readers, both members and non-members?
Leah: It's an honour to be the president of CRPA and to represent our members. Don't hesitate to get in touch if you have an idea or expertise to offer, or just to say hi.
If you're enjoying the Bulletin and you aren't yet a member, I strongly encourage you to join us!
---
See related stories:
Interview with Diana Moscu, CRPA's Incoming President, August 2021
Interview with Ali Shoushtarian, CRPA President-Elect, June 2020.
Interview with Karen Owen-Whitred, the new director general of the Directorate of Nuclear Substances Regulation (DNSR) at the Canadian Nuclear Safety Commission (CNSC), December 2020.
Successful Conference Networking – Not Just a Fairy Tale. Dave talks with Liane Koll, a recent graduate of the Loyalist College Radiation Safety program, and Valerie Phelan, who hired Liane after meeting her at the 2019 CRPA conference. January 2020.
Do you want to read more articles like this?
The Bulletin is published by the Canadian Radiation Protection Association (CRPA). It's a must-read publication for radiation protection professionals in Canada. The editorial content delivers the insights, information, advice, and valuable solutions that radiation protection professionals need to stay at the forefront of their profession.
Sign up today and we'll send you an email each time a new edition goes live. In between issues, check back often for updates and new articles.
Don't miss an issue. Subscribe now!
Subscribe