2020 CRPA Award Winners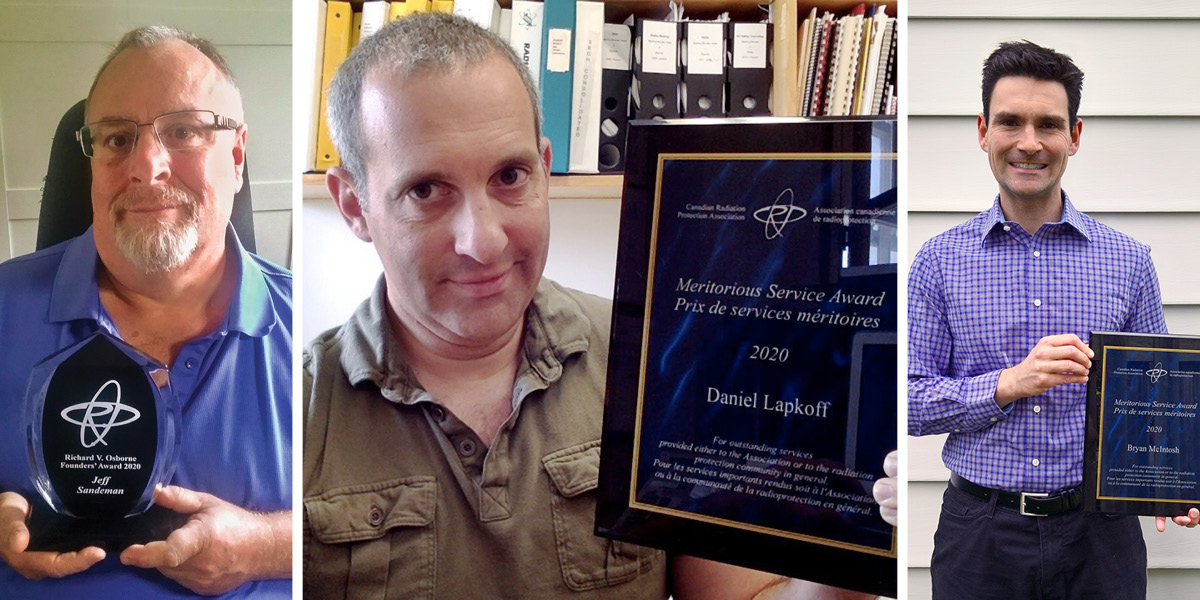 Jeff Sandeman, Daniel Lapkoff, and Bryan McIntosh
Richard V. Osborne Founders' Award
The recipient of the 2020 Richard V. Osborne Founders' Award was Jeff Sandeman, Canadian Nuclear Safety Commission (CNSC).
The award honours our founding president and the first recipient of the CRPA Founders' Award, Dr. Richard V. Osborne. It recognizes outstanding contributions that enhance the reputation of the association, raise the association's profile as an important organization in radiation protection, or promote the benefits of membership in the association and encourage participation in association activities.
Jeff Sandeman
There are very few people who have promoted CRPA for as long and with as much enthusiasm as Jeff Sandeman. He is responsible for recruiting quite a few members, and there are very few members who don't know him.
Jeff has promoted CRPA everywhere—to his former colleagues at CancerCare Manitoba, to his team members at CNSC, and even to the licensees he visits for inspections. Some people have suggested that, if he could have, Jeff would have made CRPA membership a requirement for a licensee to get a good inspection grade. He has also been extremely successful at promoting CRPA and our conferences at the management level.
In addition to his recruitment efforts, Jeff has been very involved with CRPA in other ways: he has served on the board of directors, written articles for the CRPA Bulletin, and been an active member of the Communications Committee.
As part of the Communications Committee, Jeff played a key role in responding to public enquiries and enhancing the association's reputation within Canada. His knowledge of radiation protection, combined with his communication skills, helped him craft communications that were thoughtful, informative, and easy to understand.
Although Jeff will be retiring from CNSC later this year, he has been working hard for many years to ensure CRPA continues to thrive and attract new members—including students, young professionals, and others.
When Dave Niven (editor in chief of the Bulletin) started working with Jeff at CNSC, Jeff introduced him to a few members and got him involved in the student committee. "He clearly had his pitch well planned and rehearsed," says Dave. "He told me, 'This committee is really fun and has great people . . . We'll all go out for a beer.'"
If you ask Jeff about his motivations, Dave suspects Jeff would "just shrug it off with his typical sense of humour and claim he just wanted new members to do all the work he's too lazy to do."
During the virtual award presentation, Ed Waller (outgoing CRPA president) said he was confident Jeff will continue to be a strong and vocal advocate for the CRPA. "Jeff is someone who truly cares, not just about the association, but also about all the people in it," said Ed.
Meritorious Service Award
The Meritorious Service Award recognizes significant services provided to the Canadian Radiation Protection Association (CRPA) or to the radiation protection community in general. This year there were two recipients: Daniel Lapkoff and Bryan McIntosh.
The nomination stated that "both Daniel and Bryan perform their duties with their utmost professionalism, competence, and diligence. We . . . believe them to be commendable ambassadors for CRPA."
Daniel Lapkoff
Daniel Lapkoff has been assistant radiation safety coordinator for Shared Health (formerly the Winnipeg Regional Health Authority) since 2014. Before that, he worked as a frontline nuclear medicine technologist.
Daniel qualified for his Computed Tomography Imaging Certificate (CTIC) from Canadian Association of Medical Radiation Technologists (CAMRT) in 2013. He wrote and passed the CRPA registration exam in 2016.
Daniel was the secretary of the Local Organizing Committee for the 2015 CRPA annual conference in Winnipeg. In addition, he's been involved with the CRPA Recruitment Subcommittee and the CRPA Communications Committee.
Daniel has also been part of the CAMRT National Certification Exam Committee. Daniel is a past vice-president of the Manitoba Association of Medical Radiation Technologists (MAMRT) and served several terms on its board of directors as the nuclear medicine representative.
Bryan McIntosh
Bryan McIntosh was a radiation protection officer at CancerCare Manitoba (CCMB) from January 2018 until February 2020. Currently, he is a health physicist at CCMB.
Bryan worked as part of a regulatory safety team that ensures X-ray radiation doses are within safe limits and facilities are compliant with the Manitoba Radiation Protection Act. He contributes to health physics teaching programs with specialties in radiation detection and instrumentation and radiation therapies.
Despite not being a member of CRPA at the time (since rectified), Bryan was a distinguished member of the Local Organizing Committee for the 2020 CRPA annual conference in Winnipeg and devoted his talents and energies as webmaster for the conference website.