Editor's Message, October 2020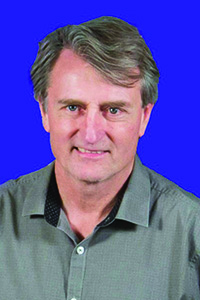 Our first "summer of the pandemic" (and hopefully the last!) is coming to an end. Normally, my summer includes a combination of vacation travel, attending family functions, and the Canadian tradition of a little downtime at a northern lake. Like everyone, my plans had to adapt to our new reality. With no major family concerns and my job intact, I consider myself one of the fortunate ones whose life hasn't been hit too hard by COVID-19 (yet!). These are challenging times, but we all seem to find a way to adapt and carry on. CRPA is no exception.
For the first time in CRPA history, our annual general meeting this summer was held using a virtual platform. Canadian Light Source graciously allowed CRPA the use of its virtual account (and the assistance of some very valuable systems technology staff) to provide what turned out to be a simple and effective way to hold a meeting for a national association. At the time, the board was a bit concerned about the new format. Months later, now that we are all familiar with virtual meetings, we wonder what all the fuss was about! Many thanks, however, to everyone involved in pulling the meeting together and having it go off without a hitch. Thanks also to the over 70 members who attended.
Going forward, a new item on the horizon for radiation protection professionals will be virtual inspections by regulators. The Canadian Nuclear Safety Commission (CNSC) has completed at least one virtual Class 2 inspection (that I am aware of) and scheduled a virtual Class 1B inspection. Expect to hear more about virtual inspections in the very near future if you haven't already.
Our hardworking editorial staff have collected some articles from the usual sources, and a couple of new ones. In this issue:
Ali Shoushtarian (CRPA president), has provided an interesting account of the value of nuclear activation analysis for use in forensics.
Donata Chalk (CRPA director of professional development) has provided an update on recent CRPA PD activities, future directions, and a call to action for CRPA members.
Dr. Sandor Demeter provides a very interesting review of the ICRP2019 conference held in Adelaide, Australia, last November.
Stéphane Jean-François shares some very pertinent advice for radiation safety professionals to help them address the concerns of the general public with understanding and goodwill.
Our regular CRPA(R) Prep answer and a new question will return in the next issue.
I know you will enjoy the issue. Take care out there!
Do you want to read more articles like this?
The Bulletin is published by the Canadian Radiation Protection Association (CRPA). It's a must-read publication for radiation protection professionals in Canada. The editorial content delivers the insights, information, advice, and valuable solutions that radiation protection professionals need to stay at the forefront of their profession.
Sign up today and we'll send you an email each time a new edition goes live. In between issues, check back often for updates and new articles.
Don't miss an issue. Subscribe now!
Subscribe