CRPA(R) Prep, September 2023
Submitted by
Tara Hargreaves, CRPA(R), director, Professional Development
Jeff Fleming, CRPA(R), chair, Professional Development Committee
Jeff Dovyak, CRPA(R), chair, Registration Subcommittee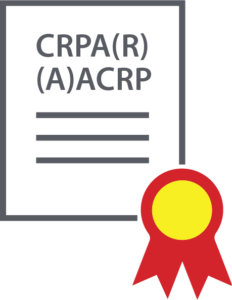 The CRPA(R) designation is the highest level of competency recognized by CRPA at the Canadian level. Attainment of the designation by a registered radiation safety professional (RRSP) is determined by
academic achievement,
experience in the radiation field, and
successful completion of the CRPA(R) exam, which is based on identified core competencies.
The purpose of the designation is to ensure that a regulator, employer, or member of the public can have confidence in the qualifications of an RRSP with the CRPA(R) credential.
Spring 2023 exam results
CRPA is proud to announce the names of the newest CRPA(R)s who passed the exam held in Halifax on May 15, 2023:
Ye Eun Kim
Bryan McIntosh
Clauzi Guerini
Daniel Hunton
Jonathan Woodworth
For a complete list of CRPA members who have attained the CRPA(R) designation, see the List of CRPA(R)s on the CRPA website.
Fall 2023 exam
We have some other exciting news regarding the CRPA(R) exam that we would like to share with you:
We will be holding CRPA(R) exams separately from the annual conference again this year.
CRPA will be hosting an exam preparation course!
The next exams will be held on Sunday, November 26, 2023, in Hamilton, ON, and Vancouver (Burnaby), BC. If you are interested in writing the exam this fall, following are some important dates to remember:
Recognition Application Deadline: September 27, 2023 (60 days prior to the exam date)
The recognition phase permits individuals to obtain peer recognition for previously obtained education and training. The recognition application deadline is the date by which CRPA must receive recognition applications. To find out more, visit the CRPA website.
Exam Registration Deadline: October 27, 2023 (30 days prior to the exam date)
Those who achieve recognition status must register for the CRPA(R) exam before this deadline. To find out more, visit the CRPA website.
Recognition status expiry date
For those applying for recognition status, please be aware of the recently adopted recognition status expiry date. Those achieving recognition on or after June 1, 2023, can only stay in recognition for a period of five years without having passed the CRPA(R) exam. If you are currently in the recognition phase, consider using the upcoming exam date as an opportunity to obtain your CRPA(R) designation.
Spring 2024 exam
Can't make it to Vancouver (Burnaby) or Hamilton in November? There will be another exam at the annual CRPA conference in Edmonton in June 2024. Similar submission deadlines will be announced for the spring exam sitting and more information will be forthcoming in early 2024.
Exam Prep Course
Unsure about what or how to study for the CRPA(R) exam? Want some extra help? The Professional Development Committee is planning to host an Exam Prep Course in the Fall. The date has not been determined, but expect it to be in mid-October. Further details will be announced when available.
If you are considering obtaining your CRPA(R) designation, there is no better time with exams in three major centres within the next six months and an optional prep course to help you prepare. Also consider taking some advice from Laila Omar Nazir, who obtained her CRPA(R) in 2022. In a recent CRPA(R) Prep article, she recommended "going through past articles in the CRPA Bulletin (see the regular feature aptly titled CRPA(R) Prep) as they give you a good idea of the exam questions and the format (along with the process document, of course)."
More Information
Please take note of the deadlines and refer to information and documents on the Professional Designation page of the CRPA website.
Questions can be directed to the secretariat at [email protected].
Do you want to read more articles like this?
The Bulletin is published by the Canadian Radiation Protection Association (CRPA). It's a must-read publication for radiation protection professionals in Canada. The editorial content delivers the insights, information, advice, and valuable solutions that radiation protection professionals need to stay at the forefront of their profession.
Sign up today and we'll send you an email each time a new edition goes live. In between issues, check back often for updates and new articles.
Don't miss an issue. Subscribe now!
Subscribe