Editor's Note / Message du rédacteur en chef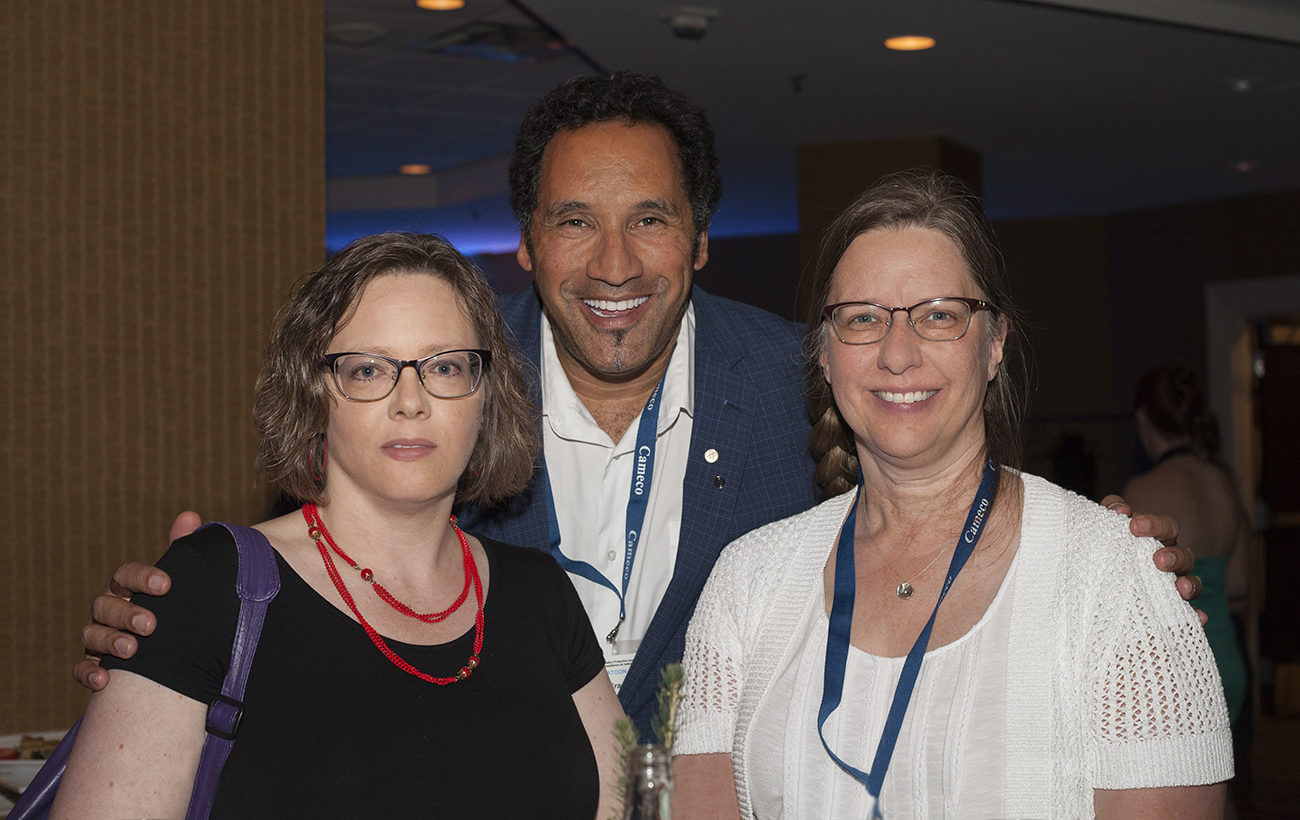 Reflections on the CRPA Bulletin (2007–2017)
How did you become interested in radiation protection and when did you join CRPA?
I first became interested in radiation protection in 1985 when I was hired to label H-3 and C-14 fatty acids onto phospholipids for heart research. I was thrilled to see the science in action, but I felt a bit of trepidation that my work could harm me or the environment in some way that I didn't understand.
I joined CRPA in 1990 (or 1991) after taking a job as the University of Manitoba's radiation safety technician responsible for radioactive waste and lab inspections.
What are your earliest recollections of the CRPA Bulletin?
I poured over the early Bulletins like the Eaton's Christmas catalogue, There was so much to learn, and it was so fabulous that it was Canadian in content. It helped that one of the former board members (Irv Gusdal) was my supervisor and one (Danny Buksak) was our manager. Irv and Danny were huge CRPA supporters and conversed regularly about articles from the Bulletin.
How and why did you become a part of the CRPA Bulletin Editorial Board?
In 2007 (I think) I joined the CRPA Communications Committee and we were trying to figure out how to support CRPA communications across the vast territory that is Canada. I knew the previous Bulletin editor wanted to step down. I missed a teleconference meeting in August of 2007—afterwards, I found out I had been selected to work on the Bulletin.
I talked with Jeff Sandeman in at the annual conference in Saint John in September of that year. I agreed to be deputy editor as I am not a good writer. I agreed to move information from submission through translation (CRPA has an amazing volunteer translation resource!) to the publisher. I sent up a filing system and loved maintaining it.
Although the editorial board was filled by the ardent work of ambitious recruiters, no one volunteered to be editor! Sunil Choubal had worked with the Board of Directors and he arranged for Michelle Boulton's company to produce the Bulletin. It was so amazing to see the transformation of the Bulletin. It is a favourite part for me to see how Michelle and her team arrange and layout the content submitted.
My favourite early article was on radon from geological samples. It was submitted by Joseph Vincelli, CRPA(R) of McGill. The raw article was fascinating, but when Michelle and her team were done with it, I thought I was reading a Chatelaine magazine!
Soon, I had help behind the scenes from a "secret" editor. I felt so much support from Stéphane Jean-François! He is a very intelligent, caring person who, fortunately for CRPA, cares strongly about the radiation protection in Canada.
What were your goals for the CRPA Bulletin and do you think your goals were accomplished?
I agreed to become a part of the Bulletin Editorial Board because no one else was offering. I stayed for two reasons: Canadian radiation protection types needed a printed Bulletin to capture and communicate what was happening in radiation protection across Canada; and Stéphane, Michelle, the Bulletin Editorial Board, and countless members of the Board of Directors made it easy to feel as though I was a part of a successful team doing important work.
What are your hopes for the new eBulletin and what are your fears as CRPA moves in this direction?
I hope the eBulletin will help CRPA jump forward to support younger radiation safety professionals to learn good practices, to stay safe, and to truly implement ALARA. I believe money and other resources should be efficiently used to keep people and the planet safe, not to fuel unsupported mythologies.
There is much work to do and I look forward to keeping up with everything online. I think online communication is an invaluable platform in the Canadian environment, where vast distances separate those practising safe science.
Réflexions sur le Bulletin de l'ACRP (2007 à 2017)
Comment en êtes-vous venue à vous intéresser à la radioprotection et quand êtes-vous devenue membre de l'ACRP?
J'ai commencé à m'intéresser à la radioprotection en 1985 lorsqu'on m'a embauchée pour étiqueter les acides gras H-3 et C-14 sur les phospholipides pour la recherche sur les maladies du cœur. J'étais ravie de voir la science en action, mais inquiète que mon travail me blesse ou cause du tort à l'environnement d'une façon que je ne comprenais pas.
Je suis devenue membre de l'ACRP en 1990 ou 1991 après avoir accepté un poste de technicienne responsable de la radioprotection, des déchets radioactifs et de l'inspection des laboratoires de l'Université du Manitoba.
Quels sont vos plus vieux souvenirs du Bulletin de l'ACRP?
J'ai dévoré les premiers Bulletins comme un enfant dévorait le catalogue de Noël de Eaton. Il y avait tant à apprendre et c'était fantastique de voir tout ce contenu canadien. Le fait que Irv Gusdal, ancien membre du conseil, soit mon superviseur et que Danny Buksak, soitnotre directeur, a beaucoup aidé. Irv et Danny étaient de grands défenseurs de l'ACRP et discutaient régulièrement d'articles du Bulletin.
Comment et pourquoi êtes-vous devenue membre du Comité de rédaction du Bulletin de l'ACRP?
Je suis devenue membre du Comité de communication de l'ACRP en 2007, je crois, et nous essayions de trouver comment soutenir les communications partout dans le vaste territoire qu'est le Canada. Je savais que l'ancien rédacteur en chef du Bulletin voulait démissionner. J'ai manqué une réunion par téléconférence en août 2007 et après, j'ai découvert que j'avais été sélectionnée pour travailler sur le Bulletin.
Cette année-là, en septembre, j'ai parlé avec Jeff Sandeman au congrès annuel à Saint John. J'ai accepté d'être rédactrice adjointe puisque je ne suis pas douée pour l'écriture. J'ai accepté de transmettre l'information entre la soumission et la traduction (l'ACRP compte une excellente équipe de bénévoles responsables de la traduction!), puis d'amener le tout à l'éditeur. J'ai monté un système de classement et j'ai adoré le tenir à jour.
Même si le Comité de rédaction était comblé par le travail ardent de recruteurs dynamiques, personne ne se portait volontaire pour être rédacteur en chef! Sunil Choubal avait travaillé avec le Conseil d'administration et il a pris des dispositions pour que l'entreprise de Michelle Boulton produise le Bulletin. C'était fantastique de voir la transformation du Bulletin. Voir comment Michelle et son équipe s'occupent de l'organisation et de la mise en pages du contenu est la partie que je préfère.
Mon article préféré parmi les premiers portait sur le radon provenant d'échantillons géologiques. Il avait été soumis par Joseph Vincelli, (A)ACRP de McGill. L'article brut était fascinant, mais après les interventions de Michelle et son équipe, j'ai cru que je lisais un magazine Châtelaine!
J'ai rapidement obtenu l'aide d'un rédacteur « secret ». J'ai senti tant de soutien de la part de Stéphane Jean-François ! C'est une personne très intelligente et généreuse qui, heureusement pour l'ACRP, se soucie grandement de la radioprotection au Canada.
Quels étaient vos objectifs pour le Bulletin de l'ACRP et ont-ils été atteints?
J'ai accepté de devenir membre du Comité de rédaction du Bulletin parce que personne d'autre ne s'était offert. Je suis restée pour deux raisons : 1) les Canadiens qui se spécialisent en radioprotection avaient besoin d'un bulletin imprimé pour enregistrer et communiquer se qui se passait en matière de radioprotection au Canada et 2) Stéphane, Michelle, le Comité de rédaction du Bulletin et un grand nombre de membres du Conseil d'administration ont facilité mon entrée en fonction et m'ont fait sentir que je faisais partie d'une équipe gagnante accomplissant un travail important.
Quelles sont vos attentes quant au nouveau Bulletin électronique et quelles sont vos craintes par rapport à ce projet?
J'espère que le Bulletin électronique va aider l'ACRP à faire un bond en avant pour soutenir les jeunes professionnels de la radioprotection afin qu'ils apprennent les bonnes pratiques, comme rester en sécurité et mettre réellement en œuvre le principe ALARA. Je crois que l'argent et d'autres ressources doivent être utilisés efficacement pour garder les gens et la planète en sécurité afin de ne pas alimenter des mythologies dénuées de fondement.
Il y a beaucoup à faire et je me réjouis à l'idée de tout suivre en ligne. Je crois que la communication en ligne est une plateforme inestimable pour le Canada, où de vastes distances séparent ceux qui pratiquent la science sans danger.