2018 Annual Federal Provincial Territorial Radiation Protection Committee Meeting / Réunion annuelle 2018 du Comité de radioprotection fédéral-provincial-territorial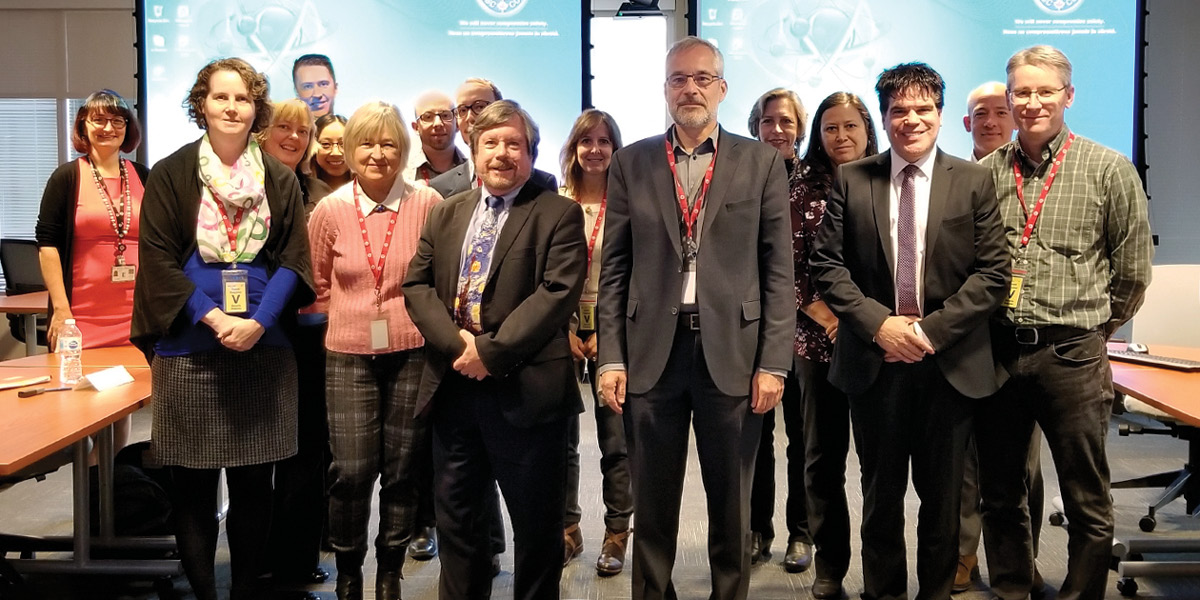 FPTRPC 2018 attendees / Participants du CRFPT 2018 : Samantha Klein (CNSC / CCSN), Colleen Rodgerson (NS / N.-É.), Caroline Purvis (CNSC / CCSN), Nathan Wahl (ARPANSA), Winnie Ng (ON-Health / Santé – ON), Eva Karpinski (ESDC / EDSC), Brent Preston (SK), Matthew Ziembicki (ESDC / EDSC), Gary Hughes (AB), Michelle Cottreau (PEI / I.-P.-É.), Brian Ahier (HC / SC), Janice Whalen (PEI / I.-P.-É.), Nancy Hounsell (NL / T.-N.-L.), Ir Martin Benoît Gagnon (QC), Harry Ingleby (MB), Robert Rees (YK). Not pictured / N'apparaissent pas sur la photo : Colin Murray (BC / C.-B.), Leo Tse (ON-Health / Santé – ON), Madelaine Fedorowich (ON-Labour / ON – Travail), Narine Martel (HC / SC)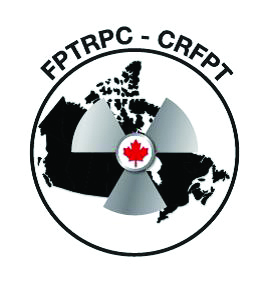 From regulatory framework to emergency preparedness and everything in between, the 2018 Annual Federal Provincial and Territorial Radiation Protection Committee Meeting educated staff and generated discussion on the latest in radiation protection.
The Federal Provincial and Territorial Radiation Protection Committee (FPTRPC) was created to advance the development and harmonization of practices and standards for radiation protection within federal, provincial, and territorial jurisdictions, and to communicate these to Canadians.
FPTRPC includes one member each from the following organizations:
Canadian Nuclear Safety Commission (CNSC)
Health Canada's Radiation Protection Bureau
Health Canada's Consumer and Clinical Radiation Protection Bureau
Department of National Defence
It also includes at least one member from each province and territory and an observer from Employment and Social Development Canada (ESDC).
The committee meets every year to allow regulatory radiation protection professionals from across Canada to share information, discuss challenges, and recommend courses of action. The last meetings took place October 23 to 26, 2018.
Peter Elder, vice-president and chief science officer of CNSC's Technical Support Branch, began the meeting by updating participants on CNSC activities, drawing attention to changes in Canada's nuclear sector, and highlighting CNSC's achievements and involvement in several projects.
Health Canada's Tim Singer, director general of the Environmental and Radiation Health Sciences Directorate, followed with an update on Health Canada's recent achievements, including emergency exercises, international work, and publications.
Representatives from each of the provincial and territorial governments provided an overview of new projects, how various regulations impact operations, and where the focus will be in the coming year.
This was followed by a regulatory framework session where Ontario Health provided an overview of the Oversight of Health Facilities and Devices Act (OHFDA) that is replacing the Healing Arts and Radiation Protection (HARP) Act, Health Canada initiated a comprehensive review of the Radiation Emitting Devices Act (REDA), and CNSC provided updates to the Radiation Protection Regulations.
The session concluded with Nathan Wahl, assistant director of government and international relations for the Australian Radiation Protection and Nuclear Safety Agency (ARPANSA), who explained how Australia regulates the use of radiation by Commonwealth organizations and sought input from the committee. Participation by the Australian regulator allowed sharing of best practices and challenges associated with a multi-jurisdictional framework for radiation protection. Wahl wanted to understand and benefit from the Canadian FPTRPC model for sharing information and providing support between provincial and federal jurisdictions, linking broader legislation to radiation, and addressing unnecessary regulatory burden.
The following day was filled with guest speakers and updates on a variety of items. Christopher Clement, scientific secretary of the International Commission on Radiological Protection (ICRP), provided an update on ICRP and reminded members that the 5th International Symposium on the System of Radiological Protection meeting will be held in Australia in 2019 (followed by Vancouver in 2021).
Both Health Canada and CNSC provided many-faceted presentations on their work. Here's a recap of topics they covered:
Health Canada:
Canadian Guidelines for the Management of Naturally Occurring Radioactive Materials (NORM) (Adelene Gaw)
National Radon Program (Kelley Bush)
Emergency Preparedness Review (EPREV) in Canada (Dominique Nsengiyumva)
Radio-frequency electromagnetic field (RF-EMF) activities (James McNamee)
Lower-class laser product surveillance activities (Jonathan Paradis)
Ionizing Radiation Physical Sciences Division (Richard Smith)
Hazard assessment (Lauren Bergman, Kevin Buchanan)
National Dose Registry (Philippe Prince)
Low-dose-radiation research projects (Deb Quayle)
Canada's contribution to the United Nations Scientific Committee on the Effects of Atomic Radiation (UNSCEAR) Global Survey of Radiation Exposure (Medical Exposure) (Julie Burtt)
CNSC:
Framework for recovery in the event of a nuclear emergency (Tristan Barr)
Gamma gear (Tristan Barr)
Evaluation of the role of radiation safety officers (Heather Crowe, Paul Matthews)
Finally, Penny Neal from Canadian Nuclear Laboratories (CNL) provided an update on the Federal Science and Technology Project on emerging environmental issues regarding NORM in industries not associated with the nuclear fuel cycle in Canada.
The final day was dedicated to the business meeting, where a new provincial co-chair, Colleen Rodgerson, was nominated. Two new working groups were established, one to look at radon and public health issues, and one for model regulations to help establish "best practice" regulations for use by provinces and territories. It was also noted with some sadness that Gary Hughes, the Alberta representative, would be stepping down; his contribution will be greatly missed.
In summary, the 2018 FPTRPC meeting provided an excellent forum for regulatory counterparts to learn from each other, share information, and engage in discussion. FPTRPC looks forward to continued collaboration.
Learn more about FPTRPC by visiting the website:
www.canada.ca/content/canadasite/en/health-canada/services/environmental-workplace-health/radiation/federal-provincial-territorial-radiation-protection-committee.html
De la préparation aux situations d'urgence à la modernisation du cadre réglementaire, en passant par tous les autres sujets discutés, la réunion annuelle 2018 du Comité de radioprotection fédéral-provincial-territorial fut une excellente occasion d'apprendre, de partager de l'information et de générer une discussion sur les plus récents développements dans le domaine de la radioprotection.
Le Comité de radioprotection fédéral-provincial-territorial (CRFPT) a été créé pour promouvoir l'élaboration et l'harmonisation des pratiques et des normes de radioprotection au sein des juridictions fédérales, provinciales et territoriales, et de les communiquer aux Canadiens.
Le CRFPT est composé d'un représentant de chacune des organisations suivantes :
Commission canadienne de sûreté nucléaire (CCSN)
Bureau de la radioprotection de Santé Canada
Bureau de la protection contre les rayonnements des produits chimiques et de consommation de Santé Canada
Ministère de la Défense nationale
Il est également composé d'au moins un membre de chaque province ou territoire, et d'un observateur d'Emploi et Développement social Canada (EDSC).
Le comité se réunit chaque année pour permettre aux professionnels qui réglementent la radioprotection au Canada de partager de l'information, de discuter des défis et de recommander des plans d'action. La dernière rencontre a eu lieu du 23 au 26 octobre 2018.
Peter Elder, vice-président et conseiller scientifique principal de la direction générale du soutien technique à la CCSN, a amorcé la rencontre en informant les participants des activités de la CCSN, tout en mettant l'accent sur les changements apportés au secteur nucléaire du Canada, puis a communiqué les réalisations de la CCSN et sa participation dans plusieurs projets.
Tim Singer, directeur général de la Direction des sciences de la santé environnementale et de la radioprotection de Santé Canada, a ensuite présenté une mise à jour sur les récentes réalisations de Santé Canada, y compris des exercices d'urgence, des travaux d'envergure internationale et des publications.
Des représentants des provinces et des territoires ont présenté un survol de leurs nouveaux projets, des répercussions des différents règlements sur les activités et des orientations de la prochaine année.
Les participants ont ensuite tenu une séance sur le cadre réglementaire durant laquelle le représentant de l'Ontario a fait un survol de la Loi sur la surveillance des établissements de santé et des instruments de santé (LSESI) en remplacement de la Loi sur la protection contre les rayons X (LPR), un représentant de Santé Canada a indiqué que son ministère avait commencé un examen global de la Loi sur les dispositifs émettant des radiations (LDER), et un représentant de la CCSN a fait le point quant aux Règlements sur la radioprotection.
La séance s'est terminée avec Nathan Wahl, directeur adjoint de l'Agence des relations internationales de l'Australian Radiation Protection and Nuclear Safety Agency (ARPANSA), qui a expliqué comment l'Australie réglemente l'utilisation du rayonnement par les organisations du Commonwealth, tout en sollicitant les avis des membres du comité. La participation du représentant australien a permis d'échanger lsur es pratiques exemplaires et les défis associés à un cadre plurigouvernemental de la radioprotection. Monsieur Wahl voulait comprendre le modèle du CRFTP axé sur le partage de l'information, le soutien mutuel des gouvernements fédéral et provinciaux, l'intégration de la radioprotection dans les règlements et l'élimination du fardeau administratif inutile.
Le jour suivant, les participants ont assisté à des mises à jour et à des présentations de conférenciers invités sur divers sujets. Christopher Clement, secrétaire scientifique de la Commission internationale de protection radiologique (CIPR), a fait une mise à jour de la commission en rappelant aux membres que le 5e symposium international sur le système de radioprotection aura lieu en Australie en 2019, suivi d'un autre à Vancouver en 2021.
La CCSN et Santé Canada ont fait plusieurs présentations sur les différentes facettes de leurs activités.  Voici une récapitulation des sujets couverts :
Santé Canada :
Lignes directrices canadiennes pour la gestion des matières radioactives naturelles (MRN) (Adelene Gaw)
Programme national sur le radon (Kelley Bush)
Examen de la préparation aux situations d'urgence (EPREV) au Canada (Dominique Nsengiyumva)
Activités des champs électromagnétiques de radiofréquence (CEM-RF) (James McNamee)
Activités de surveillance au moyen de lasers de faible puissance (Jonathan Paradis)
Division des sciences physiques des rayonnements ionisants (Richard Smith)
Registre national des doses (Philippe Prince)
Survol des projets de recherche sur les faibles doses de radiation (Deb Quayle)
Contribution du Canada au Comité scientifique des Nations Unies pour l'étude des effets des rayonnements ionisants (UNSCEAR). Enquête mondiale sur l'exposition aux rayonnements (Exposition médicale) (Julie Burtt)
CCSN :
Cadre pour le rétablissement en cas d'urgence radiologique ou nucléaire (Tristan Barr)
Équipe gamma (Tristan Barr)
Évaluation du rôle des responsables de la protection (Heather Crowe, Paul Matthews)
Enfin, Penny Neal de Laboratoires nucléaires du Canada (LNC) a présenté une mise à jour du Projet fédéral de sciences et de technologies sur les nouveaux enjeux associés à l'environnement et les MRN dans les industries qui ne sont pas associées au cycle du combustible nucléaire au Canada.
La dernière journée a été consacrée à une réunion d'affaires au cours de laquelle la nouvelle coprésidente provinciale Colleen Rodgerson a été nommée. Deux nouveaux groupes de travail ont été créés, le premier se penchera sur le radon et la santé publique, et le deuxième étudiera une réglementation type qui favorisera l'établissement de « pratiques exemplaires » en matière de règlements pour les provinces et les territoires. On souligne également avec tristesse la démission du représentant albertain Gary Hughes; sa contribution nous manquera beaucoup.
En résumé, la rencontre 2018 du CRFPT  a été une excellente occasion de réunir les représentants des organismes de réglementation homologues, d'apprendre les uns des autres, de partager l'information et d'engager la discussion. Le CRFPT est impatient de poursuivre cette collaboration.
Apprenez-en davantage sur le CRFPT au site Web :
www.canada.ca/fr/sante-canada/services/sante-environnement-milieu-travail/radiation/comite-radioprotection-federal-provincial-territorial.html

Peter Elder addressing FPTRPC members / Peter Elder s'adressant aux membres du CRFPT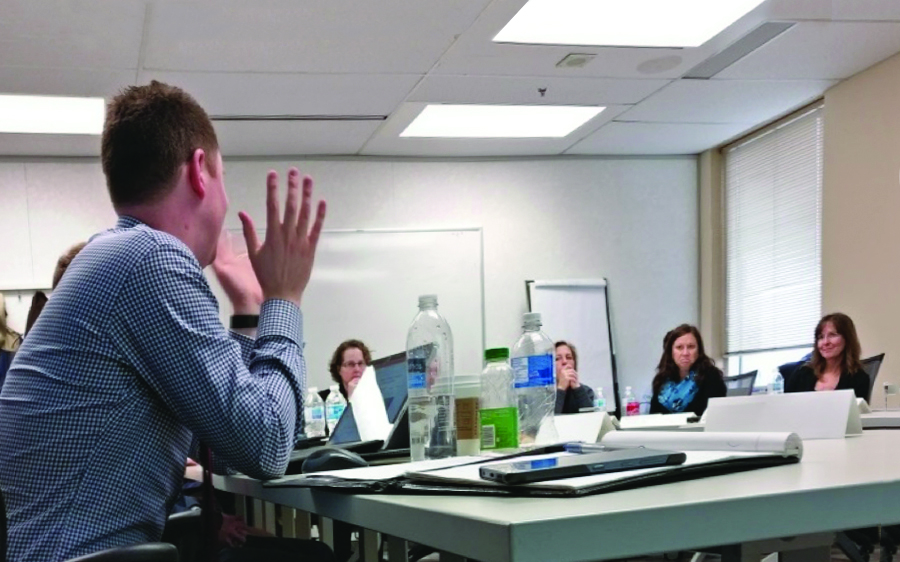 Attendees discussing multi-jurisdictional cooperation  / Discussion des participants au sujet de la coopération plurigouvernementale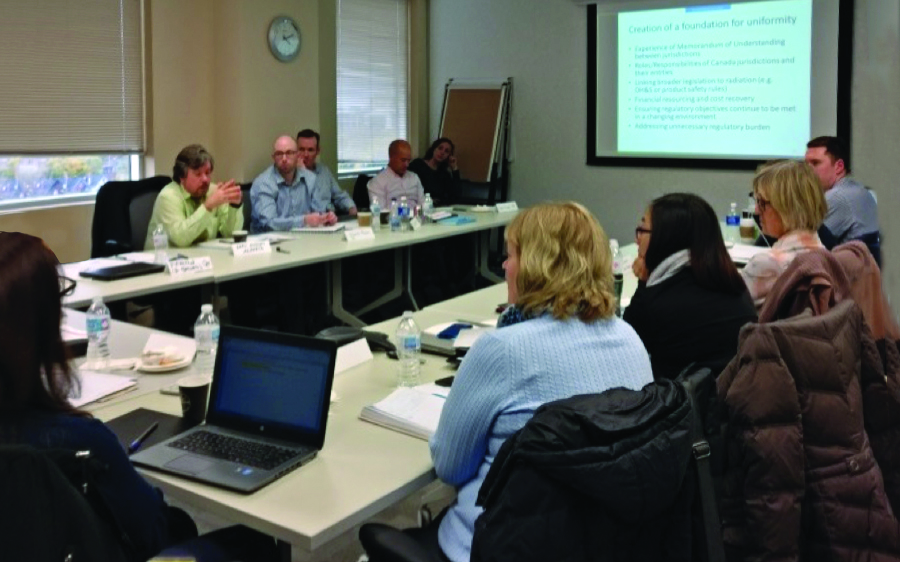 Attendees discussing multi-jurisdictional cooperation  / Discussion des participants au sujet de la coopération plurigouvernementale