President's Message / Message du président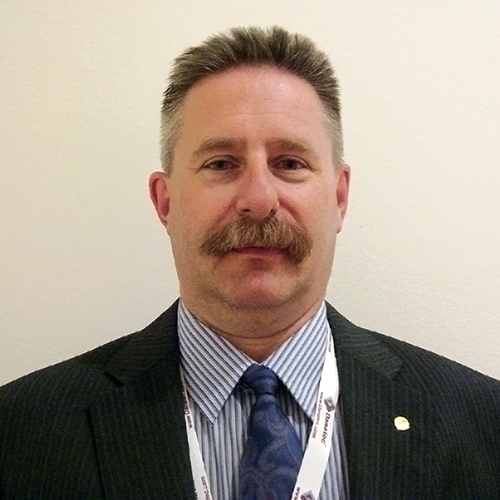 As I write this, we are just into spring, which on the Prairies means flood operations could be just around the corner. It also looks like at least three Canadian NHL teams, maybe more, will be in the playoffs. Hopefully, by the time the 2019 conference starts, spring flood operations will have shut down and at least one Canadian team will still be on the hunt for the Stanley Cup!
As this is the "conference issue," I'd like to welcome delegates to the 2019 CRPA Conference. The local organizing committee, led by Ali Shoushtarian and supported by the secretariat and the national conference committee, should be proud of what they've put together for us to enjoy in Ottawa, both professionally and socially.
Speaking of being proud, we should all be proud of what CRPA represents and how we operate. While there seems to be a lot of divisiveness in the world these days, CRPA's diversity is a definite strength. Our membership is made up of people from a variety of backgrounds from sea to sea to sea (and sometimes beyond). People work in at least two different languages (some of our members are fortunate to be fluent in both of Canada's official languages) in a variety of workplaces and organizations. For all of us, the safe use of radiation is always at the forefront. CRPA has made inroads with the Canadian Nuclear Safety Commission (CNSC) and, more recently, is making inroads with both the International Commission on Radiological Protection (ICRP) and Transport Canada.
My term as president has been easier thanks to the support of a hard-working secretariat, volunteer board, and volunteer committees. In closing, I'd like to once again salute the hard-working volunteer members whose efforts keep CRPA thriving.
Au moment d'écrire ces lignes, le printemps se présente à nos portes, ce qui signifie que dans les Prairies, des inondations pourraient être imminentes. Il semble également qu'au moins trois équipes canadiennes de la LNH participeront aux séries éliminatoires. Avec un peu de chance, lorsque le congrès 2019 commencera, les inondations seront choses du passé et au moins une équipe canadienne sera toujours en lice pour la Coupe Stanley!
Comme ce numéro est distribué lors du congrès 2019, j'aimerais souhaiter la bienvenue à nos congressistes. Le comité organisateur local, dirigé par Ali Shoushtarian et soutenu par le secrétariat et le Comité national des congrès, devrait être fier de ce qui a été mis en place pour que nous puissions profiter de la ville d'Ottawa, tant sur le plan professionnel que social.
Et nous devrions être tout aussi fiers de ce que l'ACRP représente et de la façon dont elle fonctionne. Bien qu'il y ait beaucoup de discorde dans le monde ces jours-ci, la diversité de l'ACRP est une force indéniable. Nos membres proviennent de différents domaines et d'un océan à l'autre (parfois même au-delà). Ils travaillent dans au moins deux langues différentes (certains de nos membres ont l'avantage de parler couramment les deux langues officielles du Canada) dans divers milieux de travail et organisations. Pour nous tous, l'utilisation sécuritaire des rayonnements est toujours au premier plan. L'ACRP a fait des percées avec la Commission canadienne de sûreté nucléaire (CCSN) et plus récemment avec la Commission internationale de protection radiologique (CIPR) et Transports Canada.
Mon mandat de président a été facilité grâce au soutien du secrétariat, du conseil d'administration et des comités formés de bénévoles qui travaillent fort. En terminant, j'aimerais à nouveau saluer le travail assidu des membres bénévoles qui assurent la prospérité de l'ACRP.