Editor's Message, February 2023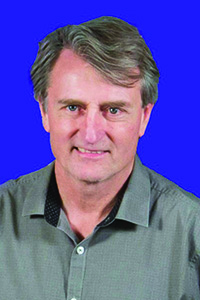 Happy New Year! 2022 — as we all got back to working on site (to varying degrees!) while dealing with the lingering COVID issues — was a year of transition and uncertainty on so many levels. Anyone who travelled over the holiday break likely experienced a little (or a lot!) of stress with all the delays, cancellations, and harsh weather. Moving toward the "new normal" has been a challenge.
I recently had the privilege of attending the International Commission on Radiation Protection (ICRP) 2021+1 conference in Vancouver (November 5 to 10, 2022). I say privilege because, after two years of limited in-person conference opportunities, it was nice to get out of the office on an employer-paid professional development excursion.
The conference had been delayed due to the pandemic, but I found it well worth the wait. The talks were often very technical, but also touched on ICRP's role in the process of developing recommendations for radiological protection practices. The complexity and diversity of the specialized topics were remarkable, and the depth of knowledge from the various experts was impressive.
Themes appeared that seemed to centre around how to best communicate health risks from ionizing radiation to the general public.
How does one reconcile the use of the linear no-threshold (LNT) dose response model (which often gets interpreted as meaning there is no safe level of radiation) with the ICRP 103 message that using LNT for calculating low-dose radiation effects " . . . is not appropriate"?
How can one generate public trust in radiation protection (RP) professional judgment regarding the complexities involved in understanding radiation-related health risks?
How do the risks from ionizing radiation "fit in" with other workplace hazards when it comes to risk mitigation efforts?
These questions are not new. A sense of frustration from some of the speakers regarding how to better communicate with the public was visible at times, even though improvements are being made.
One recent improvement was the successful ICRP campaign to "Free the Annals." Improving accessibility to the ICRP Annals for all involved can only improve understanding of RP fundamentals, both for the general public and for those with a limited role in the workplace regarding working safely with ionizing radiation.
Another noteworthy occurrence was the support provided to the residents of Fukushima to help them understand the risks associated with the 2011 accident and living in the area afterward. An enormous effort went into rebuilding trust with residents. Being transparent with timely information, providing guidance to help residents come to informed, risk-based decisions, and being open about shortcomings in the facility risk assessment and accident response have been very important steps toward improving public communication on health risks from ionizing radiation. (It's also worth noting that CRPA's Chris Clement received a letter of commendation from the Japanese Ambassador to Canada for his part in that effort![1])
The conference ended with a panel discussion, led by Professor Werner Ruhm, on the next steps in advancing the system of radiation protection. A review is being planned. Any changes to the system will, of course, take some time to develop and implement. Continuing efforts along the path toward improved transparency and engagement with the public on the complexities of radiation protection will be important.
Lastly, I want to send kudos out to the CRPA Professional Development Committee for organizing the professional development sessions. I attended all three on Sunday, and I found them to be high quality and worth my time. Well done!
[1] See related articles:
Do you want to read more articles like this?
The Bulletin is published by the Canadian Radiation Protection Association (CRPA). It's a must-read publication for radiation protection professionals in Canada. The editorial content delivers the insights, information, advice, and valuable solutions that radiation protection professionals need to stay at the forefront of their profession.
Sign up today and we'll send you an email each time a new edition goes live. In between issues, check back often for updates and new articles.
Don't miss an issue. Subscribe now!
Subscribe