President's Message, September 2023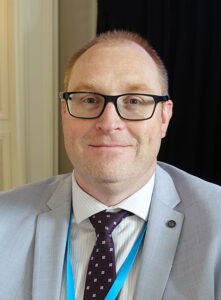 I will start my first President's Message with the hope that everyone has practised some time and distance (and maybe even shielding) from their radiation-related duties and enjoyed summer.
I am still reflecting on the success of Halifax. The first post-Covid conference could have gone very differently, as some people and employers aren't keen to travel again for conferences. The dedication of CRPA members really shone through—not only did they put on a conference amid lingering uncertainty, but they also attended! I am pleased to report that Edmonton 2024 planning is rolling right along, so let's keep up the momentum!
While summer can be a slow time, I am proud to say CRPA has started to work on the logistics of hosting the CRPA(R) exams outside of the conference this fall (November 26, so save the date) and the Professional Development Committee has mapped out some exciting learning and growth opportunities.
I know I have said it before, and I will definitely say it again: CRPA is your association. If things are going well, I would love to hear about it. If they aren't, I need to hear about it. CRPA only functions when members are engaged. If the board, committees, or I can help YOU become engaged, please reach out.
Do you want to read more articles like this?
The Bulletin is published by the Canadian Radiation Protection Association (CRPA). It's a must-read publication for radiation protection professionals in Canada. The editorial content delivers the insights, information, advice, and valuable solutions that radiation protection professionals need to stay at the forefront of their profession.
Sign up today and we'll send you an email each time a new edition goes live. In between issues, check back often for updates and new articles.
Don't miss an issue. Subscribe now!
Subscribe