CRPA Comments on the Canadian Nuclear Safety Commission's 2018 Regulatory Oversight Report on the Use of Nuclear Substances in Canada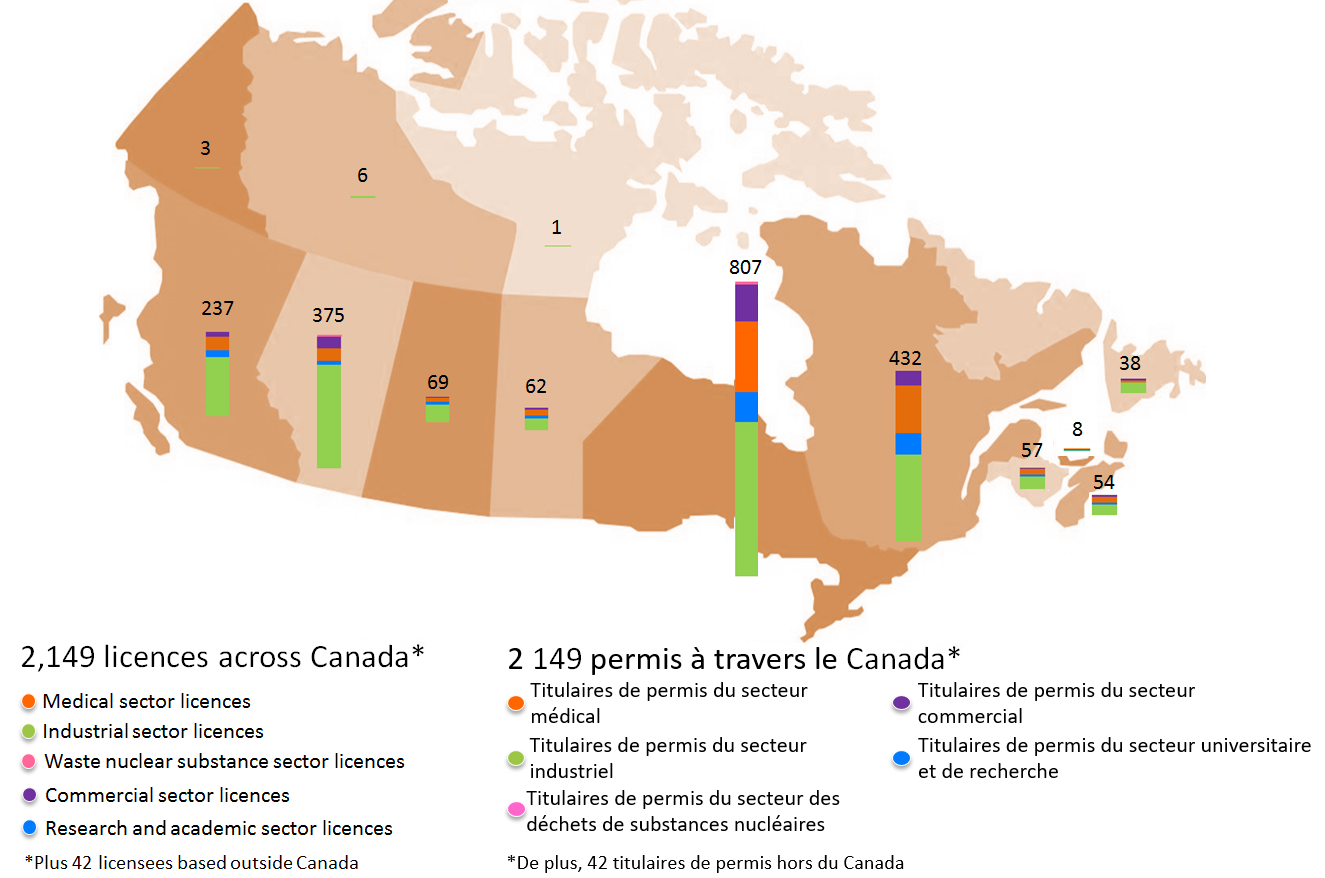 Distribution of licensees in the provinces and territories of Canada (adapted from the Regulatory Oversight Report on the Use of Nuclear Substances in Canada: 2017). / Carte indiquant l'emplacement des titulaires de permis au Canada (Adapté du Rapport de surveillance réglementaire sur l'utilisation des substances nucléaires au Canada : 2017).
Since 2014, the Directorate of Nuclear Substance Regulation of the Canadian Nuclear Safety Commission (CNSC) has published annual regulatory oversight reports for the various sectors under their mandate. These reports summarize safety performance metrics for the use of nuclear substances by all the licensees in each sector. CRPA is particularly interested in these documents as they apply to virtually all of our members.
The annual regulatory oversight reports are drafted by CNSC staff and are based on the licensing and compliance activities performed during that year. The draft report is typically issued for public comment in late spring or summer of the subsequent year. CNSC staff then formally present the report to the commission at a public meeting in the fall. During the meeting, members of the public (individuals or representatives from organizations) are allowed to present their feedback on the report as interveners. This can be done either in person or via a written submission.
After each presentation, CNSC asks questions about the report and about comments made to CNSC staff and to the interveners. The commission may direct staff to modify the report based on these discussions in order to address significant errors or other issues prior to final publication. Suggestions from interveners or CNSC involving significant changes to improve the structure or content of the report are normally deferred for consideration in future reports. This type of feedback is essential to ensure the report continually adapts to best meet the needs of the public, CNSC licensees, and CNSC.
As part of our goal to be the expert voice of Canadian radiation safety professionals, CRPA has submitted comments on the oversight report for the past several years. Our most recent submission, which consisted of written comments on the 2018 report, was presented to CNSC during their meeting on November 7, 2019. You can find a copy of our comments here.
All of the regulatory reports are published on the CNSC website once they are formally accepted. CNSC has not yet accepted the 2018 report, but you can find a copy of the draft report here.
Keep an eye out for the draft 2019 report, which should be available in the next few months. We encourage everyone to submit feedback, either through CRPA or directly to CNSC. While CNSC may not be able to answer every question or implement every suggestion (even great ideas cannot always be implemented, or at least not implemented quickly), the feedback can still prompt CNSC to look at different/better ways of collecting or presenting information.
You are a stakeholder in radiation safety, and it's always important to make sure your voice is heard.
Résumé : Commentaires de l'ACRP sur le rapport 2018 de la Commission canadienne de sûreté nucléaire quant à la surveillance réglementaire relative à l'utilisation de substances nucléaires au Canada
La Commission canadienne de sûreté nucléaire (CCSN) publie des rapports annuels de surveillance réglementaire. Ces rapports, basés sur les octrois de permis et les activités de conformité, sont généralement publiés pour recevoir les commentaires du public à la fin du printemps ou pendant l'été. En tant que représentant expert des professionnels canadiens de la radioprotection, l'ACRP a soumis ses commentaires sur le rapport de surveillance au cours des dernières années. Dave Niven encourage tous les professionnels de la radioprotection à lire les rapports et à fournir leurs commentaires directement à la CCSN ou en passant par l'ACRP. Il rappelle aussi que, bien que la CCSN ne puisse répondre à toutes les questions ni instaurer toutes les suggestions, les commentaires peuvent tout de même engendrer des moyens différents ou meilleurs pour recueillir l'information et la présenter.